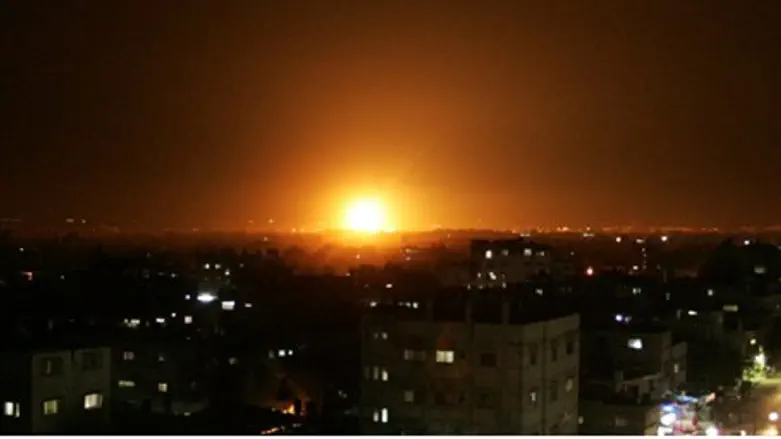 IAF airstrike in Gaza (archive)
Flash 90
The Israeli Air Force (IAF) conducted an airstrike against three terror targets in northern Gaza on Monday afternoon, the IDF Spokesperson's Office announced. 
"The IDF is prepared to defend the citizens of Israel from any threat and will continue to act decisively and as long as necessary until peace returns to daily life," the statement said. 

"Hamas is a terrorist organization and the responsibility is on it [to stop the rocket fire]," it added. 
The IDF also struck several terror tunnels in Gaza, it announced Monday evening, stating that the move prevented a steady stream of terrorists into Israel. 
Shortly before the tunnel was destroyed, one senior IDF official spoke about the discovery to Arutz Sheva on condition of anonymity. 
"We recently found a significant terror tunnel leading out of Gaza, which we are gathering intelligence about to prevent further terror attacks and to prevent [the tunnel] from being used [again]," the official said. 
"We are also investing significantly in gathering our security forces," he added. "Until now we have had two full staffs working on the situation and we are readying ourselves for escalation [with Hamas]." 
Photos emerged earlier Monday, showing tanks and IDF forces gathering close to the Gaza border. 
The official confirmed that IDF forces were being readied for a potential assault, and that 1,500 reserve soldiers had been called up to prepare for a potential attack. 
Earlier Monday, a Hamas source told Walla! News that a series of conditions had been released to stop the rocket fire on Israel, which has seen over 150 rockets fired on its borders since three weeks ago - at least 110 of which in the last six days. 
The conditions include releasing all 56 terrorists freed during the 2011 Gilad Shalit deal re-arrested during Operation Brother's Keeper last month and calling for a ceasefire.