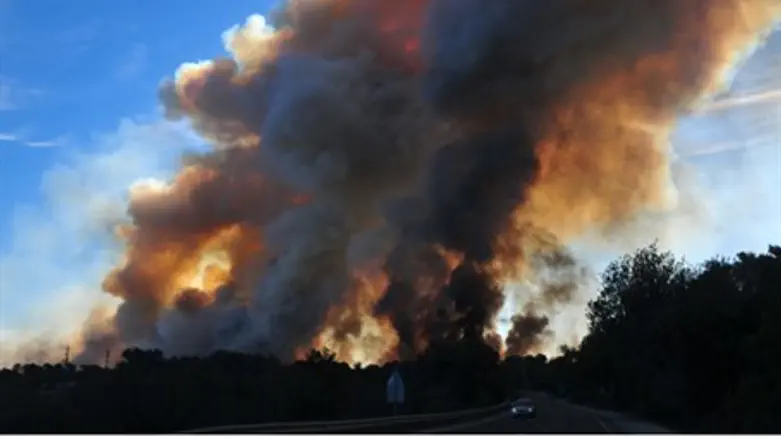 Forest fire (illustrative)
Israel news photo: Flash 90
A massive fire has broken out in the forest between the Israeli Arab town Abu Ghosh and the Jewish community of Ma'ale Hahamisha, just west of Jerusalem. 
Twenty-seven firefighting units and five firefighting planes have been dispatched to gain control of the blaze. The fire has now been contained, but officials said that it has not been completely extinguished. 
Map: traffic congestion. Highlighted - closed road between Shoresh and Hemed; X - approximate location of fire
Google Maps/Annotations from A7 staff
Earlier, Highway 1 was been closed between Abu Ghosh and Kiryat Anavim due to the emergency, stalling traffic between Shoresh and Hemed interchanges. Police encouraged all travelers to take Road 443 to Tel Aviv to help ease congestion. 
As of 4:00 pm Tuesday afternoon, Highway 1 has been reopened. 
It remains unclear whether the fire is a natural blaze, or a case of arson terrorism. The horrendous 2010 Carmel fire near Haifa, which killed 44, was caused by the negligence of two Arab Druze youths, and sparked a chain of at least 25 arson terror attacks the following week.