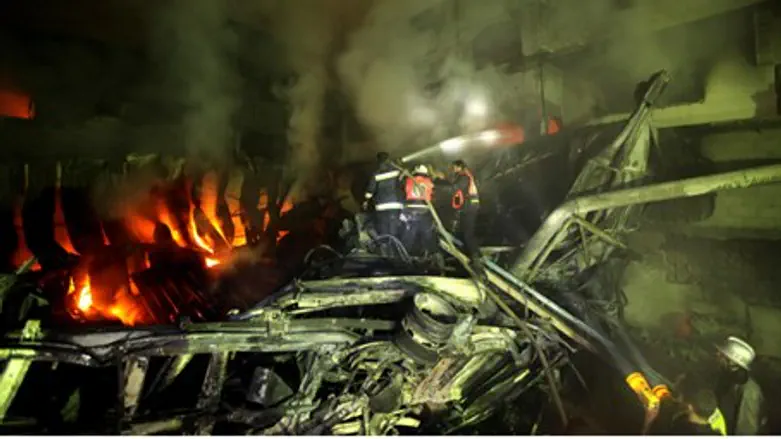 Aftermath of IAF airstrike in Gaza
Flash 90
Israel Air Force (IAF) aircraft struck two terror targets in Gaza on Sunday night, the IDF Spokesperson's Unit said.
According to the statement, the airstrikes targeted one terrorist center in southern Gaza and a second terrorist center in central Gaza.
Direct hits were identified. All aircraft safely returned to their bases.
The attack was a response to a rocket attack by Gaza terrorists Sunday evening. The rocket, which was fired around 9:00 p.m., exploded in an open area in the Eshkol Regional Council.
There were no reports of physical injuries or damages.
"The IDF will not tolerate attempts to harm Israeli citizens and IDF soldiers, and will operate against anyone who uses terror against the State of Israel," said the IDF statement, which clarified that Gaza's Hamas terrorist rulers are responsible for any rocket attacks coming from the region.
Two weeks ago, terrorists in Gaza fired a rocket which struck the Shaar Hanegev area in southern Israel, without causing casualties or damage.  
Over 100 projectiles fired by terrorists in the Gaza Strip, ruled by the Islamist movement Hamas, have struck Israel since the start of 2014, according to military data.
Most of those were fired during mid-March, when Islamic Jihad shot dozens of rockets onto civilian areas in southern Israel.