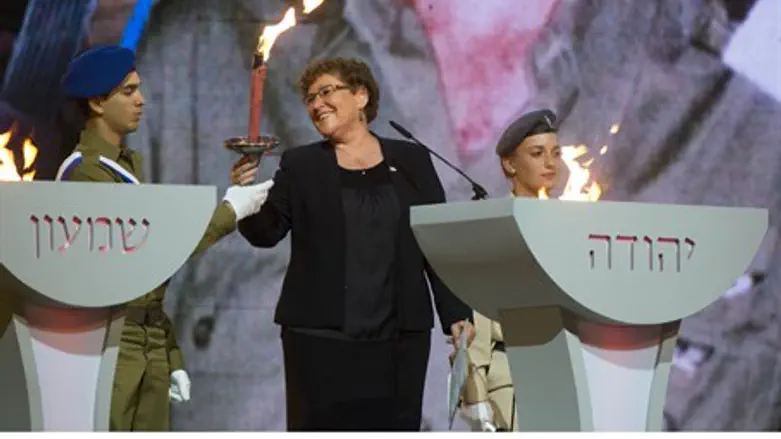 Miriam Peretz lights a torch
Flash 90
Miriam Peretz, who lost two sons during their service in the IDF, was one of 12 women who lit a torch on Monday evening at the traditional torch lighting ceremony on Mount Herzl, which opens the Independence Day celebrations.
Peretz's son, Eliraz, was killed in 2010 near the Gaza border. Another son, Uriel, was killed in Lebanon in late 1998.
Singer Yehoram Gaon, who invited Miriam Peretz to light her torch, described her as a person "imbued with a mission to strengthen the Jewish and Israeli spirit in the nation of Israel."
"Miriam has chosen to continue with her life," he said. "She meets with soldiers, with youths and with bereaved families and conveys messages of hope and faith in the power of man to grow from crises."
Before she lit her torch, Peretz said she was lighting the torch "in honor of the fallen, the founders of the nation and the country, including my two sons who fought in the Golani Brigade, Uriel and Eliraz of blessed memory, who are buried here on Mount Herzl."
She continued, "In honor of the bereaved families, heroes against their will, inspirational families, who turned their grief into a melody and thus constitute an example of the human spirit, of the power of life. In honor of the wounded and disabled IDF soldiers, a prayer for their quick and full recovery, in honor of all the security forces who are on duty and are a link in the chain of generations which made life here possible."
"In honor of the education system which invests day and night in designing the next generation in a spirit of hope and faith, love of man and of the homeland and of connecting to our ancient roots. In honor of those who love our country and its builders who believe in their cause. In honor of the citizens of Israel and all those who yearn and hope for the blessing, 'And I will grant peace in the land and its inhabitants with eternal happiness' ... and for the glory of the State of Israel," said Peretz.