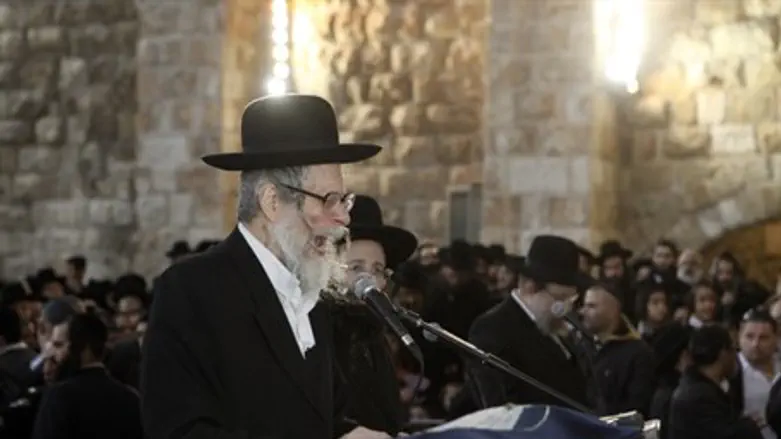 Rabbi Eliezer Berland
Israel news photo: Flash 90
Suspected sex-offender Rabbi Eliezer Berland has reportedly been deported from Zimbabwe after overstaying his visa.
Berland, who heads the Shuvu Banim Hassidic sect, was arrested on Monday in Zimbabwe for immigration offenses, but was released shortly after.
Chronicle Zimbabwe released a photo, said to be of Berland, following his sentencing Wednesday at a court in Bulawayo. However, it has not yet been possible to confirm the authenticity of the photo: whilst his followers say the man pictured is indeed Berland, others have disputed its authenticity.
In 2013, he was questioned over accusations he carried out various indecent acts on several female followers, but has since fled the country to avoid prosecution. 
But before he could be arrested Berland fled the country - first to the US, Italy, and Switzerland, and then on to Marrakech, Morocco before moving once again to Zimbabwe.
Shortly after he fled Israel, his son and several other followers were arrested on suspicion of fraud and money laundering involving the sect's finances. 
Berland is believed to have left Morocco after officials there became uncomfortable over plans for the suspected sex offender to relocate his entire sect to the north African country. Local Jewish leaders were also said to have been very wary of Berland.
Zimbabwe state prosecutor Caroline Matanga, said Berland had overstayed a three-month visa for "religious tourism" which expired on March 24.
Magistrate Msipa ordered Berland to pay a fine of $200, or face three months in prison, but added: "The court took into consideration that you're aged 77 and you're a first offender who pleaded guilty. Imprisonment is not suitable for a first offender so you should pay a fine of $200."
According to Chronicle Zimbabwe, the "mega-rich" Berland's lawyer had offered to "fuel all government cars to escort him to the airport in a bid to avoid jail" and "had been living in a top Bulawayo hotel since December last year".
Before his arrest, it was reported that one of his followers, a close associate of Berland's, has been transporting Kosher-for-Passover food to Zimbabwe in advance of the hundreds of Shavu Banim hassidim expected to travel to meet the Rabbi over the holiday.