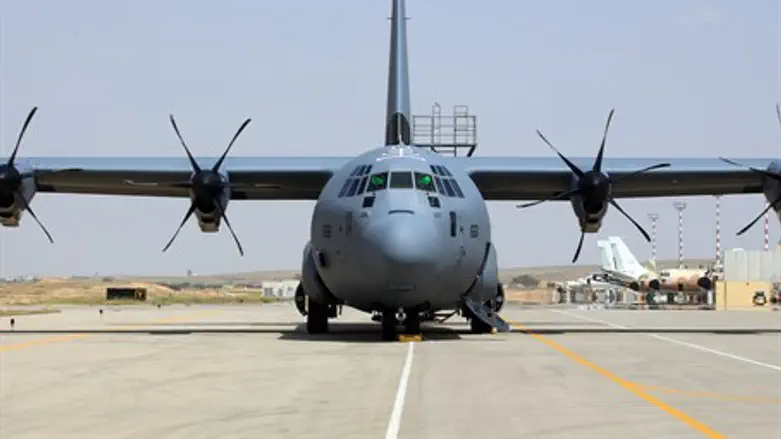 C-130J Hercules 'Shimshon'
Yissachar Ruas
Israel's first Lockheed Martin C-130J Super Hercules "Shimshon" airlifter arrived at Nevatim Air Base Wednesday, on the same day that an office of the aerospace company opened in Be'er Sheva. 
Israel ordered its C-130Js through a Foreign Military Sale (FMS) contract with the US Government. This is the first ferry of the C-130Js currently on order for the IAF, which has operated legacy C-130s since 1971.
In non-combat missions, C-130Js are often the first to support humanitarian missions such as search and rescue, aerial firefighting in the U.S., and delivering relief supplies after earthquakes, hurricanes, typhoons and tsunamis around the world.
This C-130J Super Hercules was first delivered to the Israeli Air Force (IAF) in June 2013 at the Lockheed Martin facility in Marietta, Georgia, where it was manufactured. The aircraft remained in the US to receive Israeli-specific, post-production modifications.
Now, however, it has "come home."
The ceremony at Nevatim airbase was attended by several top Israeli officials, including Defense Minister Moshe Ya'alon, IDF Chief of Staff Benny Gantz, IAF Commander Major General Amir Eshel, and senior IDF officers.
Lockheed Martin's Chairman, President and CEO Marillyn Hewson welcomed the cooperation between Israeli and US military officials. 
"I am delighted to be here today to commemorate the delivery of Israel's first C-130J Super Hercules aircraft. I am especially honored to mark this occasion in the presence of so many brave and talented members of the Israeli Air Force. All of us at Lockheed Martin are proud to support the Israel Defense Force in its mission to protect and defend the State of Israel."
"We feel privileged to bring you the world's most advanced technology to meet the complex and dynamic security challenges of this region, and we are proud of our decades-long partnership," she continued. 
"Today, we mark the latest milestone in that important partnership.  And we celebrate the long-time friendship between Israel and the United States of America."
Hewson explained that the plane's name - "Shimshon" (Samson) - signified the strength of the IDF. 
"[The plane's name is] Shimshon, a leader whose power was thought to be as mighty as the sun. [The Biblical] Shimshon used his power to combat the enemies of Israel and perform heroic feats. In the same way, this aircraft will support the defense of Israel.  And the men and women who are the heroes of the Israeli Defense Force."
credit: יששכר רואס
credit: יששכר רואס
credit: יששכר רואס
credit: דיאגו מיטלברג
credit: דובר צה"ל
credit: דובר צה"ל
credit: יששכר רואס
credit: יששכר רואס
credit: יששכר רואס