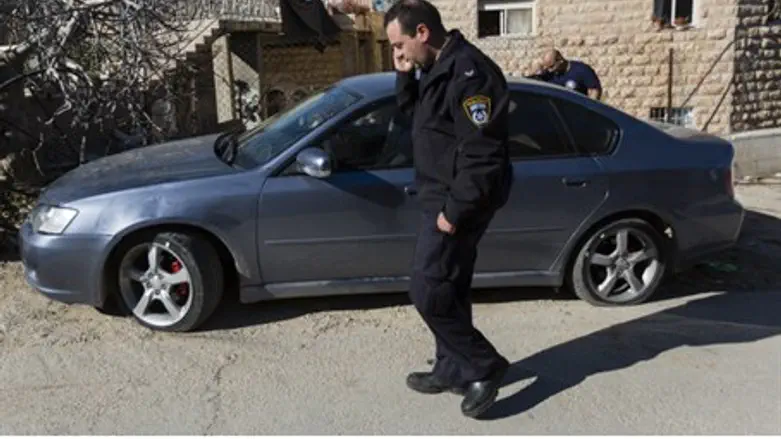 Police investigate punctured tires (file)
Flash 90
The tires of 34 cars in the Arab-majority neighborhood Beit Hanina in north-eastern Jerusalem were found punctured Monday morning, in what police suspect is a "price tag" politically-motivated vandalism crime.
In addition to the tire punctures, graffiti in Hebrew was found scrawled on a bus in the neighborhood reading "Gentiles in Israel = enemies." Jerusalem police have begun an investigation.
Local Arab residents claimed to AFP that security cameras showed a group of men conducted the vandalism. One Arab resident told Walla! that the vandals were a group of three masked men wearing gloves.
Sixteen cars had their tires punctured in the Jerusalem neighborhood of Ein Aluza in February, with graffiti reading "Arab workers = assimilation" spray-painted at the scene.
Last June, 21 cars similarly had their tires punctured in Beit Hanina. A Star of David was drawn on one of the cars, and on a wall was written "we won't remain silent in the face of rock throwing," a reference to the extreme surge in Arab rock attacks against Jews in preceding months.
Beit Hanina was the scene of a rock-throwing attack on a Jewish-owned car last October. Ariel Dorfman, who was driving the car to the funeral of Rabbi Ovadia Yosef ztz''l, reported "one Arab called his friends and, all of a sudden, there were 15 Arabs at the scene who began to throw rocks at the car." The windshield was smashed and two young children were taken to the hospital as a result of the attack.
Arab "price tag" is "less interesting"
While "price tag" generally connotes criminal damage against Arab property, similar attacks are regularly conducted by Arab residents against Jews, and Jewish holy sites.
In February, an ancient Jewish tomb of Elazar Hacohen, the son of Moses's brother Aaron from the Torah, was vandalized with graffiti in Arabic praising terrorism. It has been argued that such attacks do not receive the same amount of media attention or condemnation as vandalism targeting Arab property.
Meanwhile an Arutz Sheva report in January revealed that in at least several cases, anti-Arab "price tags" were being systematically staged by Arab activists.