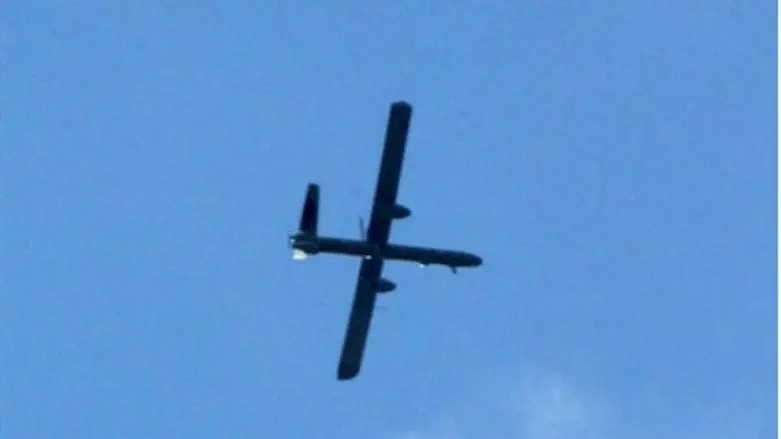 drone (illustrative)
Israel news photo: Flash 90
A Gaza terrorist named Abdullah Harti, 29, was seriously wounded Sunday morning, in a joint operation by the Shin Bet and IDF.
The IDF Spokesman's Unit said that Harti had taken an active part in the firing of rockets at Israeli communities, and in planning additional rocket attacks.
He was reportedly a senior member of the Popular Resistance Committees and identified with global jihadism.
Arab news sources said that an IAF aircraft struck a man who was driving a motorcycle near Deir el-Balah in Gaza. He was reportedly seriously injured.
Security sources told Maariv Sunday that Harti had been involved in various terror attacks against Israel, along the border with Gaza and on the Israel-Sinai border. He worked in cooperation with the Ansar Bayt al-Maqdas jihadist group in Sinai. This organization was involved in rocket fire on Eilat, which most recently took place twice in late January.
Harti was also involved in the transfer of weapons to jihadists in Sinai and Egypt, for the purpose of carrying out terror attacks against Israel citizens.
"The IDF views with gravity any incident of firing on Israeli territory, and will continue to act with force against any attempt to carry out terrorism," said the IDF. "The IDF is prepared and set to defend the citizens of Israel."
On Saturday evening a rocket was fired by terrorists from Gaza towards the northwestern Negev. The IDF stated "no damage or injuries were reported."
The latest rocket followed three attacks on Thursday. In the first attack, a grad rocket was fired at the Eshkol Regional Council; earlier in the day, terrorists fired a rocket at Ashkelon, and before that at the Hof Ashkelon Regional Council.
According to IDF Radio, 17 rockets had been fired from Gaza by January 17, making for a rate of one missile per day.
Five Arab rioters were wounded by Israeli army gunfire Friday near the border fence in northern Gaza, medical sources told the AFP news agency.
Witnesses said the soldiers opened fire after they were attacked by stones hurled over the border fence.