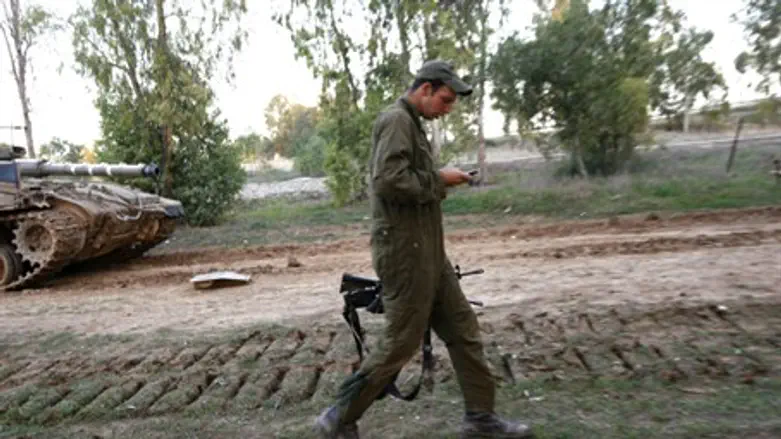 IDF soldier checking cell phone (illustration
Flash90
Two Israeli Air Force (IAF) pilots have been jailed and another 12 disciplined for storing sensitive flight maps on their smartphones, IDF Radio reported Wednesday. 
Military police discovered the security breach after an IAF pilot reported a lost smartphone, adding that it contained classified information. The phone was recovered, and authorities checked it to find maps and other documents saved to the device. 
The military police decided to broaden the scope of the investigation and found that other members of the squadron had also used their smartphones in a similar fashion. The pilots' intentions were good: they wanted to improve their abilities and knowledge by having the information readily available at all times, according to the broadcast. However, the data uploaded to the phones included a slew of top-secret information - including sensitive maps, flight plans, and photographs of documents. 
In total, 14 pilots were court-martialed; of those, two were jailed for five days, one was fined, and 11 received suspended sentences. 
The crackdown on soldiers storing sensitive information has escalated over the past several years in light of the Anat Kam case.
Kam was convicted of stealing over 2,000 sensitive documents during the period of 2005-2007, when she served in the IDF as a secretary in the IDF's Central Command headquarters. She copied the documents to a disk-on-key (USB drive) which she proceeded to hand over to Ha'aretz reporter Uri Blau.
Blau published some of the information in the documents, but he claimed that the information he used was not classified or damaging to the country's security. Ha'aretz later published full photocopies of the documents, revealing Kam's identity in the process and leading to her arrest.
Kam was sentenced to four and a half years in prison for her theft. The sentence was later reduced by one year, after an appeal by Kam's lawyers that the sentence was unnecessarily harsh. She was released last month.