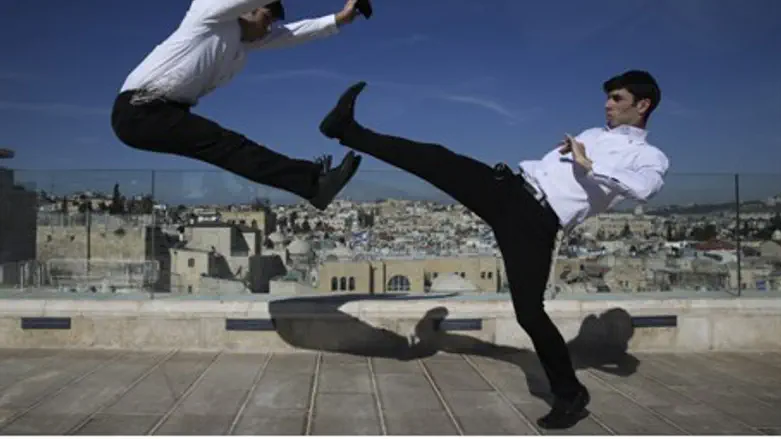 Martial arts in Jerusalem (file)
Flash 90
California-based Rabbi Yossi Eilfort recently started winding boxing wrap on his arms in addition to tefillin, winning his first amateur MMA (Mixed Martial Arts) match by technical knock-out in the second round.
Eilfort has learned Krav Maga for the past 12 years, but just 6 months ago began training in MMA under Thierry Sokoudjou at Team Quest Gym in Encinitas.
The rabbi's goal was not to hurt anyone. In fact, he reports feeling "uncomfortable hitting someone." Rather, by going through this personal challenge, he wanted to promote self-defense and fitness among the religious Jewish community. "I proved what I wanted," notes Eilfort.
Fox News interviewed the martial artist rabbi:
While balancing his duties at the synagogue, the 22-year-old rabbi trained nearly every day in preparation for his debut fight. He even trained on Friday mornings, but skipped the last few Fridays before the fight because of Shabbat preparations.
"I believe if we're not challenging ourselves, then we're wasting time," remarked Eilfort, who impressed his trainer Sokoudjou. "I never thought that a rabbi would be interested in fighting," said the Cameroon-native MMA and Judo expert, adding "but I was stoked. He never quits."
Right before his match in North Hollywood, Eilfort was told another fighter was brought out on a stretcher after being knocked out in a matter of seconds. However the rabbi wasn't rattled, bringing down his opponent even while holding back by not striking the fighter's face directly.
Eilfort intends to use his training to become a police chaplain, giving self-defense seminars to Jewish students.
The Californian rabbi's story has been compared to New York rabbi and former cop Gary Moskowitz, who has been involved in teaching people to defend against the "knockout game" that has specifically targeted Jews in surprise assaults.