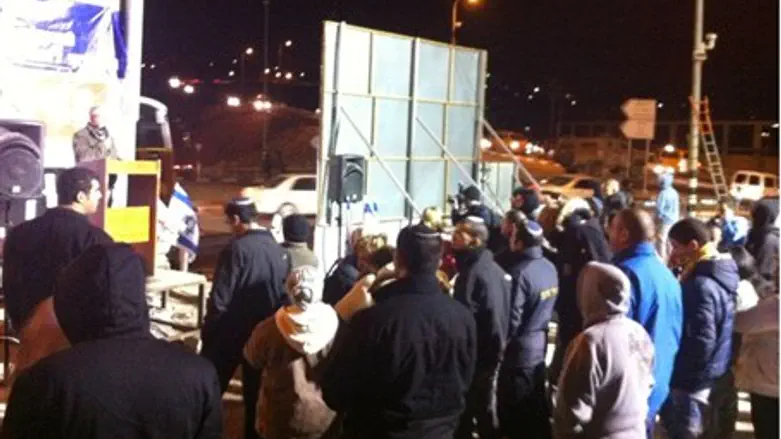 Demonstration at Adam Junction
Michael Cohen, News 24
Dozens of residents of the community of Adam, just north of Jerusalem, held a protest rally Tuesday night at Adam Roundabout, near the community of Adam, following the stabbing of a policeman there on Monday. The policeman, officer Rami Ravid, has lost a kidney as a result of the stabbing.
The head of the Binyamin Regional Council, Avi Roeh, said at the rally: "We call upon the government of Israel and the prime minister from here, to snap out of it and defeat the terrorism. This situation cannot go on. The government of Israel must bring back security to the residents."
MK Yoni Chetboun (Jewish Home) said at the rally that "the Palestinians have understood that they cannot defeat us in an open intfada. As a member of the Knesset Foreign Affairs and Security Committee, I can say that we are witnessing a new phenomenon of 'trickling terrorism' that is carried out in a way that does not stretch the rope to its limit."
"This is not a classic intifada, there's a new template of 'trickling terror' here," commented Chetboun earlier Tuesday. "The clear conclusion and code word is deterrence. Security forces must make surgical strikes to remove and hit the terror centers. Otherwise, the trickle will turn into a flood."
Police Commissioner Lt.-Gen. Yohanan Danino visited the wounded policeman at Shaarei Tzedek Hospital in Jerusalem on Wednesday.
"This is a very grave incident that joins a series of terror events in the last few days, which we also saw in Bat Yam, and on the Gaza fence yesterday," Danino said. He said that the upsurge in terror had not come as a surprise. "We estimated lately that once diplomatic negotiations begin, we will experience a rise in such events, and indeed, our estimate has become a reality."
Danino praised policemen for working in a determined way and cooperating with other security forces. "It is my hope that together, through cooperation, we will succeed in passing this period safely and without casualties," he added.
Commissioner Danino visits injured policeman
Israel Police