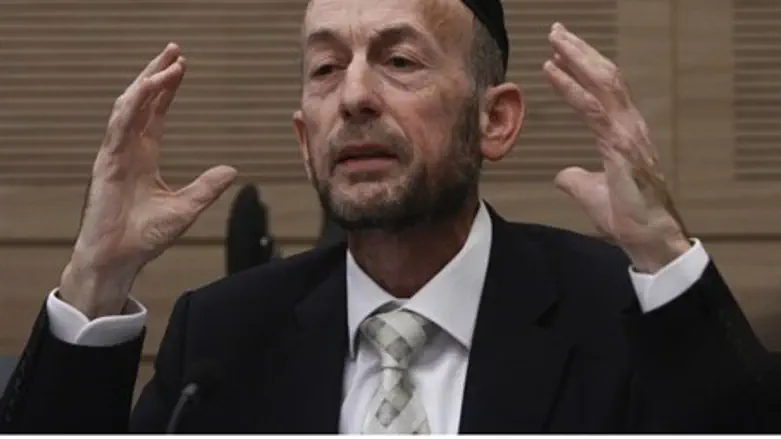 MK Uri Maklev
Flash90
The National Insurance Institute (NII – Bituach Leumi) is wrongly stripping tens of thousands of Israelis of needed benefits by changing the definition of "handicapped," MKs have accused.
The NII gives benefits to handicapped individuals based on their disability percentage, which is based on a medical assessment that examines the extent to which the handicap affects day-to-day functioning. Proposed changes would lower the disability percentage for thousands of people.
Several Members of Knesset are seeking to change the situation by forcing the NII to hold a public debate on the issue. Currently, the Welfare Minister is allowed to sign off on proposed changes to "handicapped" status after consulting with the Health Minister, and does not need to hold a public debate on the issue or to examine the potential impact on benefits.
A new bill put forth by MKs Uri Maklev, Moshe Gafni and Yaakov Asher, all of the hareidi-religious Yahadut Hatorah (UTJ) party, would require potential changes to handicapped individuals' benefits to be brought before a Knesset committee.
Maklev, Gafni and Asher argued that doctors have spoken out against the proposed changes, as have handicapped rights groups and the Knesset's Labor, Welfare and Health Committee. They accused the NII of using medical advances as an excuse to strip the handicapped of their rights.
Their proposal would require the Welfare Minister to present proposed changes to the definition of "handicapped" to the Labor, Welfare and Health Committee, and to get its approval.
MK Maklev told Knesset that the issue is transparency. "The Welfare Ministry would be interested in expanding the definition of handicapped. But we know that when we expand in one area, we need to cut the budget somewhere else – so these things need to be done transparently, with parliamentary oversight," he said.
He noted that the Knesset recently marked Handicapped Rights Day. "The handicapped should have been here today, to see how the Knesset blocks laws intended to help them," he accused.
"Unfortunately, any demand the handicapped make immediately becomes a struggle, because those in power do not accept their elementary demands," he continued.
Regarding the proposed change to "handicapped" definitions, Maklev warned, "A thin distinction made by a medical committee can significantly impact a handicapped person's life, and that of his family, for years."
The Knesset debated the bill Wednesday, and decided to send it to the Health Committee for further discussion.