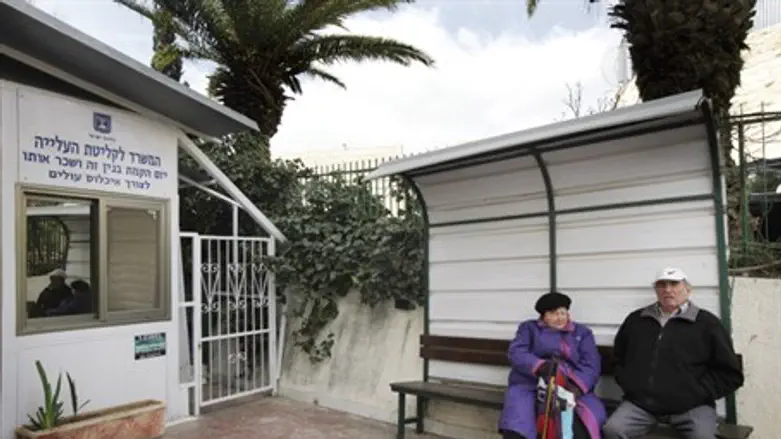 Elderly Israelis in Jerusalem
Israel news photo: Flash 90
Professor Shlomo Mor-Yosef, head of the National Insurance Institute (NII – Bituach Leumi) addressed a committee Tuesday on the topic of, "The Turning Point in the Pension Market – Changing Gears."
The NII currently spends 50% of its funds – 35 billion shekels per year - on payments for the elderly, Mor-Yosef said. He warned, "If the retirement age does not increase, National Insurance payments will increase."
He noted, "In Israel, unlike in Europe, the amount you paid to National Insurance is not taken into account, only the number of years you paid for."
A senior Finance Ministry official, Rajuan Greib, warned, "Just like there's uncertainty in the job market – so, too, in the pensions market. A 30-year-old man can't know what his income level will be, unlike in other countries, where those who save get a budgeted pension."
The government must ensure that the pension system is efficient, he said.
Einat Skornik, a senior advisor at Bank Leumi, suggested a pension plan with changing payments, rather than regular pension payments. The goal would be to make more money available to those who are newly retired, she explained.
Danny Naveh, the head of Klal Insurance, agreed that pension funds need to change. "The issue of pensions is like a nuclear time bomb. It needs a systematic solution," he said.
"The state must establish a public committee that will work on strategic, long-term thinking to find solutions for the pension funds," he continued. "Today the life expectancy is 80, and the life expectancy for babies born in Israel today is expected to be 100."
Naveh suggested a model that would provide incentives for high earners to put aside more money for their pensions. In addition, he said, the retirement age should be adjusted in accordance with life expectancy.
He also proposed that the government put aside pension funds for soldiers, in order to compensate for the fact that Israeli men enter the workforce at a relatively late age due to mandatory military service, and that solutions be found to compensate for periods of unemployment as well.