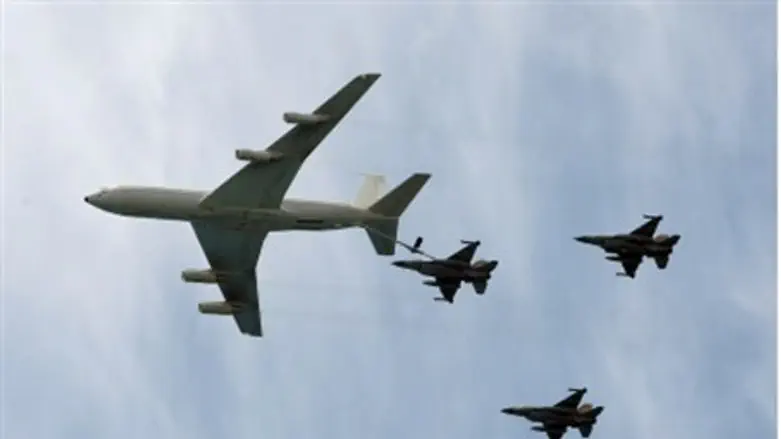 IAF in refueling exercise
Israel news photo: Flash 90
Israel is hosting a major air defense drill, called Blue Flag, in which the air forces of five countries – the U.S., Greece, Poland, Italy, and the IAF – will conduct advanced exercises. For several intense weeks over 100 planes will ply the skies over the Negev, conducting exercises independently and in coordination with each other.
Israeli air battalions participating in the drill will include the "Edge of the Spear" and the "Knights of Twin Tail" squadrons from the Tel Nof airbase, the "Knights of the North" and the "First Jet" squadrons from the Ramat David airbase, the "Knights of the Orange Tail" squadron from the Hatzerim airbase, and the "One" and "Bat" squadrons from the Ramon airbase. The "Flying Dragon" squadron, which will host the international exercise at its home base, will also simulate activity by the "red forces," stand-ins for enemy forces.
The exercises were organized in part to allow the IAF to participate in international training, after Israel was banned from air exercises with NATO several years ago due to Turkish objections. The exercises are designed to simulate realistic engagements in a variety of scenarios, based on Israel's experience with air forces of Arab armies in previous engagements.
In addition to the scenarios that will be practiced during the workshop, the Israeli aerial teams will train for a flight conducted entirely in English, as required in the international exercise. "'Blue Flag' is an advanced exercise at a very high level and we have to fly in English, which is something we aren't used to", said IAF First Lieutenant Omri, who is responsible for the workshop from the "Knights of the Orange Tail" squadron.
Also participating in the exercise will be observers from additional countries, who will examine future participation in the coming years.