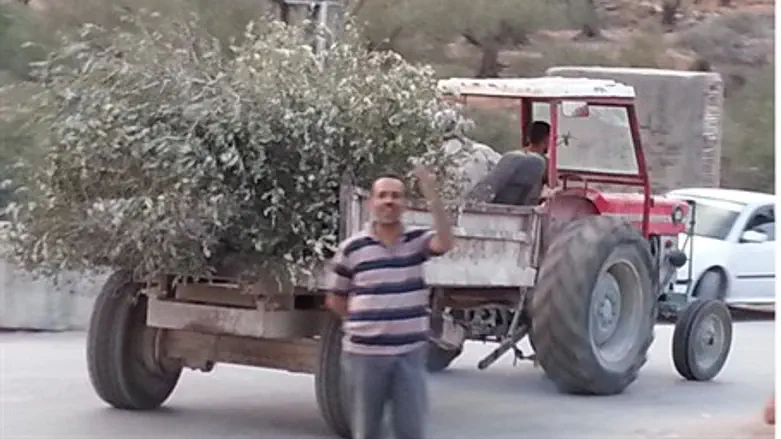 Arab/Leftist Olive Tree Vandals
Binyamin Regional Council
A report by international news agencies claiming that Jewish villagers and PA Arab settlers had  clashed in a serious brawl Monday outside of Shechem (Nablus), is false, said a spokesperson for the Samaria Regional Council. "We've never heard of such a thing," Esther Alush stated to Arutz Sheva. "We never received any reports remotely like this." 
AFP quoted Abdel Hafith Wadi, head of the Qusra village council near the northern city of Nablus, who claimed that a confrontation erupted as Palestinian Arab settles found that 25 olive trees had been cut down in an act of vandalism. He blamed Jewish villagers in the nearby town of Esh Kodesh, adding that IDF soldiers had sprayed the PA Arabs with rubber bullets. 
As Arutz Sheva has reported, PA Arabs have repeatedly preyed on the ignorance of Western journalists to claim that normal olive harvesting techniques are acts of vandalism. Some olive species - particularly those in the Middle East - must be harvested by hacking off the branches of trees, allowing new, stronger branches to grow back before the next season.   
The Samaria Regional Council managed to prove through a photography campaign in 2012 that all accounts of "vandalism" have been staged by Palestinian Authority officials and left-wing activists, and issued warnings this year to look for other incitement attempts surrounding the olive groves. 
Wadi insists that there was another 'price tag' attack. "When the farmers went to check their land, around 70 settlers approached them," he told AFP, saying it had quickly escalated into a brawl, with youths throwing stones.
AFP also reported Wadi's allegations against the IDF, who he claims arrived at the scene and started defending the attackers, firing rubber bullets and tear gas. 
"Ten Palestinians were wounded and taken to Rafidia hospital in Nablus," he said, adding that dozens more villagers suffered from tear gas inhalation and were treated in the field.
A hospital spokesman said nine people with rubber bullet injuries had been treated and released, while a 10th person was still being treated for moderate injuries.
The AFP report also takes statements from an Israeli military spokeswoman out of context. The spokeswomen confirmed that troops had clashed with "dozens of youths throwing stones" in the village, saying one Palestinian had been "lightly injured by rubber bullets." The region is indeed the site of many rock-throwing attacks - usually by the Palestinian Arabs at Israelis, not the other way around.