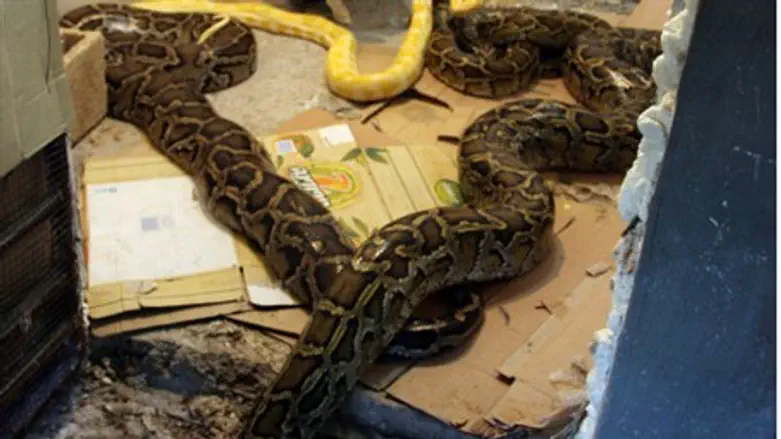 Snakes
Flash 90
Ten days after an escaped 14-foot African python killed two young Canadian brothers as they slept, forty pythons have been discovered in a Brantford, Ontario motel.
Police found the snakes in five plastic storage bins at the Bell City Motel on Colborne Street in Brantford, about 100 kilometers southwest of Toronto. The snakes have been seized by the Society for the Prevention of Cruelty to Animals, reported CBC News Canada.
"Early [Thursday] evening, the Brantford police called us to come out and assist with a large number of snakes they had found," said Brandon James, spokesman for the Brant County SPCA. "When we arrived, we found very overcrowded conditions with approximately 40 snakes."
James said he had "never seen a load of snakes this large in Brant County, and I've been doing this for 10 years."
The biggest python was estimated to be 1.3 meters (over 4 feet) long, while others were less than a foot long.
The snakes were in distress because of the cramped conditions and lack of water, James said.
"I don't know how long they were in those tote containers for, but it's very stressful for the snakes."
The snakes belonged to a local couple who stayed at the room for only one night, a manager at the motel told The Canadian Press. The couple were out Thursday evening when police arrived, said the manager. Police found the snakes in the course of an investigation about a different matter.
It is illegal to own a python in Brantford.
On August 6, a 100-pound African rock python escaped from its enclosure and strangled Noah Barthe (4) and Connor Barthe (6), who had been sleeping over in an apartment above an exotic pet store in Campbellton, New Brunswick.