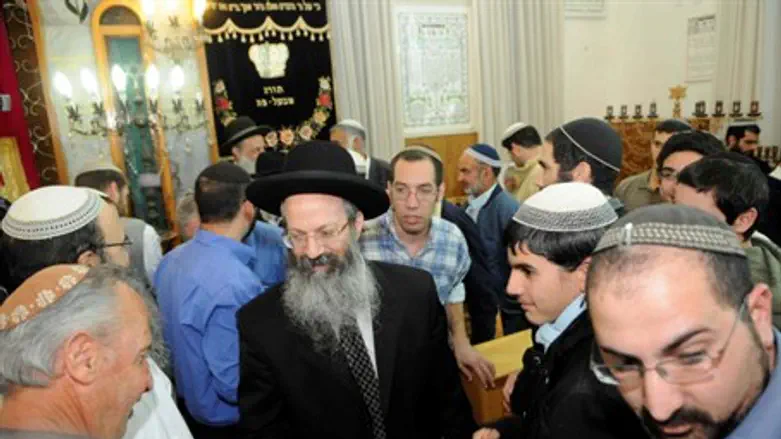 Rabbi Melamed at Har Bracha
Flash 90
Defense Minister Moshe Yaalon decided Monday to renew the military's cooperation with the Har Bracha yeshiva located in Har Bracha, Samaria. The yeshiva will regain its "hesder" status, thus enabling its students to serve in the special hesder track that combines yeshiva study with army service.
It was the previous defense minister, Ehud Barak, who canceled the hesder arrangement because of statements by the yeshiva dean, Rabbi Eliezer Melamed, against soldiers' participation in the eviction of Jews from their homes.
The Har Bracha Yeshiva expressed its pleasure with the decision to reinstate it in the hesder track. The Hesder Yeshiva Federation also expressed its approval: "The minister's decision is a clear statement by the defense establishment against those who maliciously attack the hesder track."
Construction and Housing Minister Uri Ariel thanked Minister Yaalon and said, "I would like to express my appreciation to my colleague, DM Yaalon, for returning the Har Bracha Yeshiva to its rightful place in the Hesder program. The membership should never have been suspended just because of opinions on Yesha evacuations with IDF participation. The Hesder Yeshiva students are stalwart and outstanding members of society, contributing to national security as well as all other walks of life. Congratulations to Yeshiva Dean Rabbi Eliezer Melamed," he added.
Besides reinstating the Har Bracha Yeshiva into the Hesder program, DM Yaalon also declared the Olga Yeshiva, at Givat Olga, near Hadera, a Hesder member, as well as the Ofakim yeshiva in the Negev.
Bayit Yehudi Hadera municipal candidate Adv. Eliyahu Buskila welcomed the decision regarding the Olga Yeshiva.
"We established a private Yeshiva with donations rather than government assistance," he said. "Our boys integrate Torah study and IDF service in honor of G-d and nation, in addition to communal support and youth education supplementation. The DM's decision constitutes official acknowledgement of their outstanding contribution in the Olga Yeshiva."