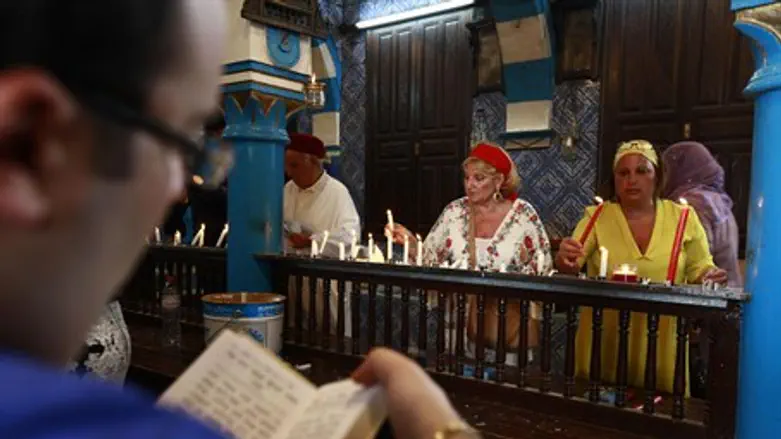 Jews pray inside the El Ghriba synagogue in D
Reuters
Hundreds of Jewish worshippers on Sunday completed an annual pilgrimage to Ghriba, Africa's oldest synagogue on the Tunisian island of Djerba, where security was high to prevent any violence.
Organizers expressed satisfaction at the number of pilgrims, including Israelis who flew in from Europe, who took part in the ritual which had been scrapped in 2011, when a massive uprising toppled the regime of strongman Zine El Abidine Ben Ali, the AFP news agency reported.
This year the pilgrimage, which started Friday when worshippers began arriving in Djerba, took place in a festival-like atmosphere with a final procession on Sunday for Lag B'Omer, which was attended by Tourism Minister Jamel Ghamra and Tunisia's Grand Rabbi Haim Bitan,
"Everything went well. I am looking forward to (seeing) thousands next year," said Perez Trabelsi, who represents the Jewish community in Djerba, according to AFP.
The Islamist-led government of Tunisia reinforced security around the ancient mosque and the Jewish quarter of Djerba for the pilgrimage to prevent any attacks by radical Muslim groups, blamed for a wave of violence since the mass uprising that toppled Ben Ali.
Army truck were stationed in Ghriba and checkpoints set up on the road linking the airport to the tourist area in the Mediterranean resort island which was hit by an Al-Qaeda suicide attack a decade ago, according to the news agency.
Beginning 33 days after the start of the Jewish Passover festival, the Ghriba pilgrimage used to attract thousands of pilgrims and tourists but their number fell dramatically after the April 2002 bombing that killed 21 people.
The synagogue was founded in 586 BC by Jews fleeing the destruction of the Temple of Solomon in Jerusalem.
Tunisian Jews now numbers around 1,500, compared with an estimated 100,000 living in the north African country when it gained independence in 1956.