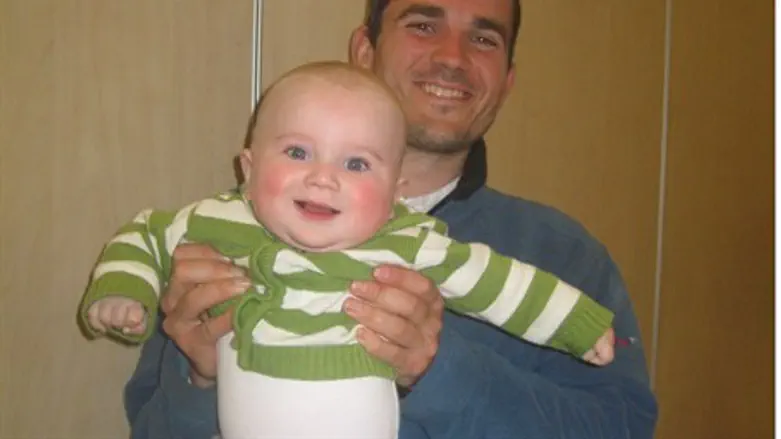 Asher and Yonatan Palmer
Courtesy of Palmer family
Palestinian Authority resident terrorist Wael Salaman Mohammed el-Arjeh, of Hevron, has been convicted of two counts of murder in the deaths of Asher and Yonatan Palmer.
He will be sentenced in the upcoming days. Arjeh is facing life in prison.
Arjeh took part in an attack in which large stones were hurled at the Palmers' car. A stone hit Asher Palmer, who was driving, in the face.
The injured Palmer lost control of the car, possibly after losing consciousness, resulting in a crash in which both he and baby Yonatan were killed. Yonatan was two days shy of his first birthday.
Asher had been on his way to pick up his pregnant wife, Pua, from her job in Jerusalem. Pua gave birth to a baby girl five months after the murders, and named her daughter Orit, meaning "light."
The trial was attended by United States representatives due to the fact that Asher had U.S. citizenship.
Asher's father Michael expressed satisfaction with the verdict, telling Arutz Sheva, "Justice has come to light. This has been one of the hardest times of my life, as I fought to ensure my son and grandson's murderers would be punished."
Military court judges will give a verdict next month in the case of a second PA resident terrorist accused of taking part in the attack.
In the Palmer case, police at first did not connect the crash with the large rocks found on the road and called the event a traffic accident, until the rocks in the vehicle and their smashed outline on the window proved it to be a terrorist act.
In the past, deaths due to rock throwing were not considered first degree murder, that is, not premeditated. Three year old Adelle Biton, critically injured in a crash due to rock-throwing that occurred before the Passover holiday, has brought the issue to the fore once again. Efforts are being made to change the attitude to this potentially lethal form of terror.