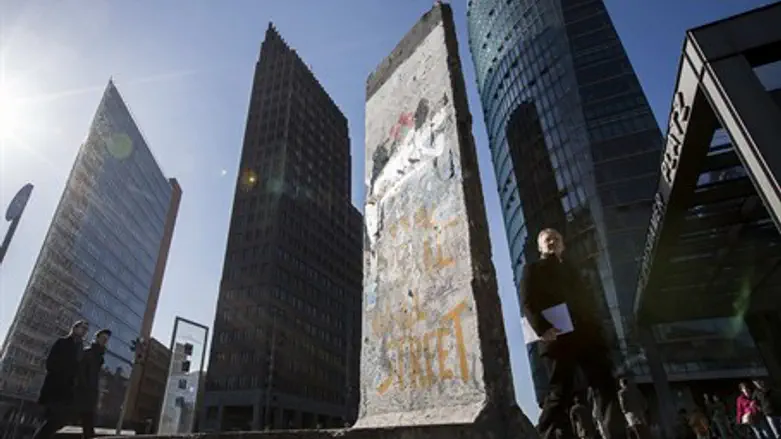 Segment of the former Berlin Wall
Reuters
Israel's ambassador has joined other Jewish leaders in abandoning a high-level interfaith German event to protest Turkish participation following vicious anti-Israel remarks by Turkey's prime minister.
Israel's ambassador to Germany has joined World Jewish Congress (WJC) secretary-general Maram Stern in canceling his planned participation in this week's event, to be addressed by Turkey's Deputy Prime Minister Bulent Arinc.
The conference, "Muslims, Jews, Christians: Peace is Possible!" is scheduled to be held at a Berlin hotel by the Inter Dialogue Institute, and to host representatives from a number of countries.
Among those were to be a delegation from Israel, and a Turkish mission headed by the country's deputy prime minister. The Turkish leader arrived in the German capital on March 4 with representatives of Turkish minorities. 
Israeli Ambassador Yaakov Hadas-Handelsman was also to attend, but has canceled his participation, citing Turkish Prime Minister Recep Tayyip Erdogan's comments last week on Zionism.
"Because of the importance of this event I expected that the Turkish prime minister would retract his recent horrible statements and lies about Zionism," the Israeli ambassador said in a statement issued Wednesday. "But since that did not happen, I am forced to cancel my participation in the event. 
"Erdogan's statements contradict the purpose of dialogue," the statement said.
During a speech at the opening session of the fifth United Nations Alliance of Civilizations in Vienna, Erdogan referred to the rebirth of the State of Israel, and the ancient Biblical commandment to the Jewish People settle the Land as a "crime against humanity."
The Turkish prime minister's statement -- "Just like Zionism, anti-Semitism and fascism, it becomes unavoidable that Islamophobia must be regarded as a crime against humanity"  -- evoked an instant wave of outrage from Jews and some international leaders around the world.