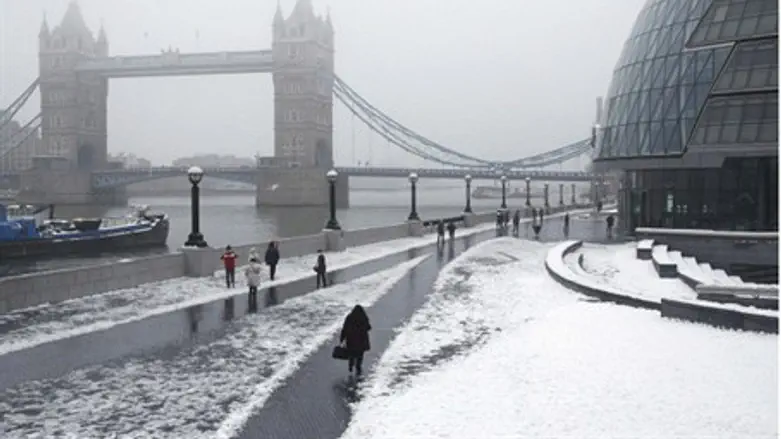 London
Reuters
Ambassador Daniel Taub, who represents Israel in London, commented Monday on the cartoon published in the Sunday Times, which shows Binyamin Netanyahu building a concrete wall out of the bodies and blood of Arabs.
"Israelis have a longstanding commitment to free speech and a high threshold for tolerating strong and even provocative criticism," said Taub in a statement. "This cartoon, however, bears no relation whatsoever to legitimate political comment.
"The image of Israel's security barrier, which is saving the lives of both Jews and Arabs from suicide bombers, being built from Palestinian blood and bodies is baseless and outrageous.
"The use of vicious motifs echoing those used to demonize Jews in the past is particularly shocking and hurtful on International Holocaust Remembrance Day, but the crude and shallow hatred of this cartoon should render it totally unacceptable on any day of the year.
The cartoon was blasted by the European Jewish Congress, which demanded that the Sunday Times publish an apology, and by commentators. 
"The cartoon will be defended as fair comment about Israel's security fence that the Palestinians and their foreign cheerleaders depict as a war crime," wrote Jonathan Tobin of Commentary Magazine. "That this strictly defensive measure was made necessary by the Palestinians' campaign of suicide bombings that cost the lives of a thousand Jews in the last decade goes unmentioned."
Israel's parliamentary speaker also lashed out Monday at the cartoon.
"For the people of Israel, this is a cartoon which recalls the dark journalism from one of humankind's darkest periods," Knesset speaker Reuven Rivlin wrote in a letter to his British counterpart John Bercow.
"As a democrat, I support political criticism but in publishing this cartoon yesterday in London, the boundaries of free speech were crossed," Rivlin wrote, adding, "Prejudice had deeply influenced legitimate criticism."
"If a cartoon had been published in Israel showing Britain in a monstrous light and hurting the feelings of the British people in such a mean and nasty way, you wouldn't hesitate to complain to me, and rightly, about crossing the legitimate boundaries of freedom of expression," he said in a direct appeal to Bercow.
Rivlin said Israel was "disappointed" that such images could be published in modern-day Britain, suggesting the cartoon exposed "certain unhealthy undercurrents."
The European Jewish Congress and other groups 
AFP noted that the cartoon appeared a day after a British parliamentarian was forced to apologize after he used his blog to criticize Israel's treatment of the Palestinians, accusing "the Jews" of perpetrating daily atrocities and drawing parallels with the Nazi Holocaust of World War II.
He later defended his comments in interviews, saying they were a "just a statement of fact", and adding that "it appears that the suffering by the Jews has not transformed their views on how others should be treated."