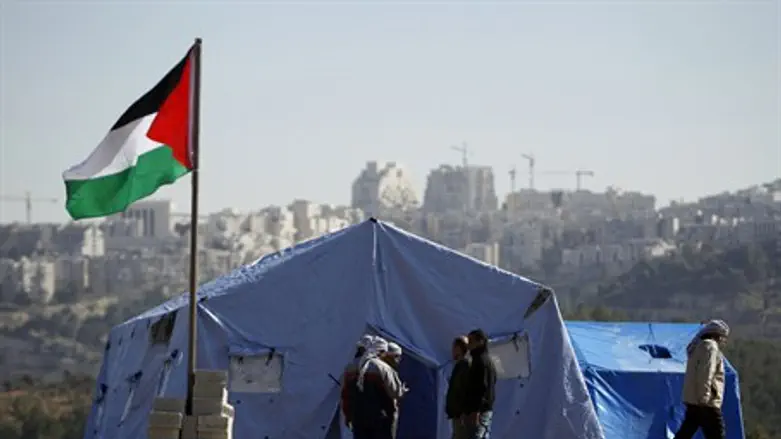 PA Arabs stand near tents in outpost in Beit
Reuters
Dozens of Palestinian Authority Arabs re-entered a demolished outpost near Jerusalem and started to rebuild it, the Bethlehem-based Ma'an news agency reported.
The illegal outpost, which Arabs have named al-Karamah (Dignity), was established last Friday near the PA Arab village of Beit Iksa, located between the Ramot and Mevasseret Zion neighborhoods of Jerusalem.
On Saturday, the Arabs who set up the outpost said they planned to erect more tents in the outpost,  as well as finish the construction of a small mosque in the encampment.
The Arabs have said that the reason for the outpost is the fact that Beit Iksa is set to be entirely encircled by Israel's border fence, cutting it off from Jerusalem.
Israeli authorities ordered the confiscation of 124 acres of the village's land three weeks ago, and do not permit any new building in the town, they claimed.
The Civil Administration on Sunday night issued eviction orders for the illegal outpost and it was demolished without incident on Monday morning.
On Friday, the Arabs re-entered the outpost and performed the weekly prayer, before re-erecting tents and planting olive trees, witnesses told Ma'an.
Al-Karamah was set up a week after Arab activists set up an illegal outpost in the E1 area, which connects Jerusalem and Maaleh Adumim, and that was just recently opened to construction for Israelis.
The Arabs in the outpost were evacuated by security forces the following night. After the Supreme Court cancelled a temporary injunction which had prevented Israel from taking down the tents that were in the outpost, security forces demolished the tents as well.
(Arutz Sheva's North American Desk is keeping you updated until the start of Shabbat in New York. The time posted automatically on all Arutz Sheva articles, however, is Israeli time.)