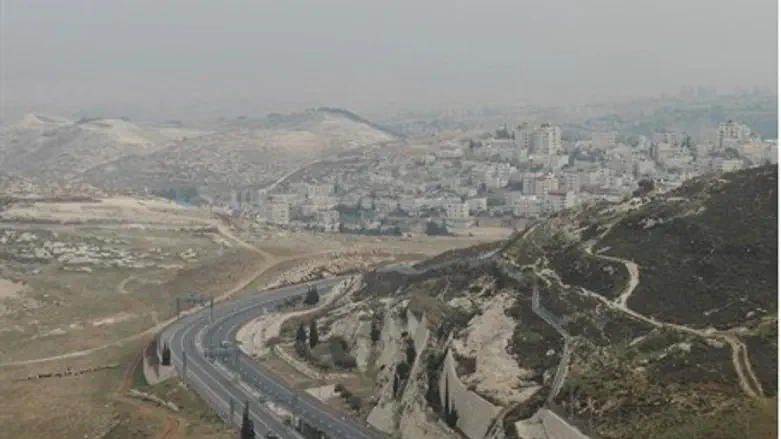 Overlooking E1
Israel news photo: Hezki Ezra
Arab activists set up an outpost Friday in the Maaleh Adumim area just east of Jerusalem. The area in question was recently opened to construction for Israelis.
"We have set up 20 tents, and have enough equipment to stay here for a long time," said Abir Kopty, spokeswoman for the Popular Struggle Coordination Committee, told Agence France Presse.
Kopty told AFP that more than 200 PA residents were camping at the site which they had named Bab al-Shams, or 'gate of the sun,' which is located in a corridor of land between the edge of Jerusalem and Maaleh Adumim.
"We are willing to stay here until we ensure the right of the owners of the land to build on their lands," she said. "This is a message that we will not remain silent anymore in the face of settlement expansion."
The land in question is part of Area C, which is under full Israeli civilian and security control. It is within the municipal borders of Maaleh Adumim, a city of 40,000 that has been slated to remain part of Israel in all past negotiations between Israel and the PA.
While foreign media outlets have reported that Jewish homes in E-1 would cut PA residents in Samaria off from areas south of Jerusalem, this is not the case. In fact, a new bypass road that is part of the building plan would actually reduce travel time.
The PA activists' move to build on the land mirrors that of Jewish activists who build outposts in hopes of someday creating a permanent community. However, Jewish activists for the most part prefer to build in Area C, rather than in PA regions.
A spokesman for the Civil Administration contacted by AFP said that the attempt to build an outpost "sounded like a provocation," adding, "If it indeed is a construction violation, we will deal with it."