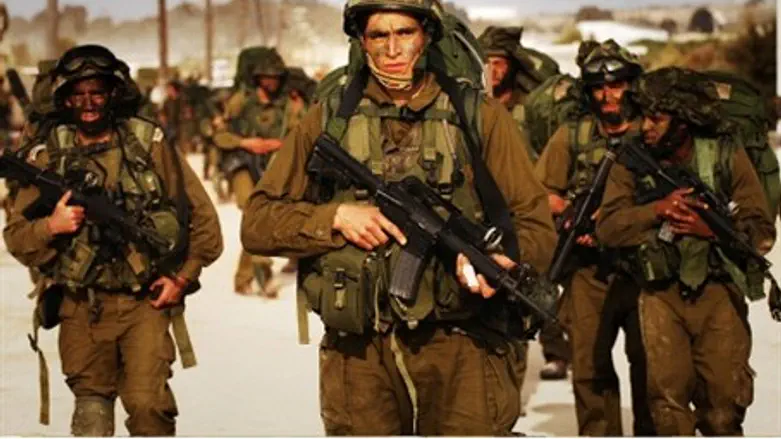 IDF soldiers (illustrative)
Israel news photo: Flash 90
Ceasefire negotiations are taking place under the shadow of  bitter experience of previous truces, most prominently Israel's unilateral ceasefire ending the three-week Operation Cast Lead campaign in January 2009.
The government of former Prime Minister Ehud Olmert declared that as of January 18, 2009, "First a ceasefire is declared. If Hamas stops firing rockets, then Israel pulls its forces out of the Gaza Strip. If rocket fire resumes then the IDF goes back in, this time with the international backing gained by having tried a truce."
Hamas spokesman Farzi Barhoum said at the time, "The occupier must halt his fire immediately and withdraw from our land and lift his blockade and open all crossings and we will not accept any one Zionist soldier on our land, regardless of the price that it costs."
Islamic Jihad and Hamas then stated on January 18 they would halt missile and rocket attacks, and the IDF withdrew its troops three days later.
Two days after the ceasefire, residents of a kibbutz near Gaza ran for cover as a Code Red siren warned of a rocket attack. They heard an explosion, no one was injured, but the government denied there had been an attack.  
The following week, IDF tanks briefly rolled back into Gaza along with foot soldiers following a roadside bomb explosion and a rocket-propelled grenade attack that killed one soldier and wounded three others.
On January 29, 2009, Hamas fired a rocket on the Sderot area,  following a similar attack the previous day.
Eshkol Regional Council head Chaim Lin told reporters following the attack, "This is the first rocket since the ceasefire [began]. We hope that the Israeli government will not be drawn into a policy of restraint, and that they will respond with force in order to preserve the security of the residents.
Two days later, Hamas fired a Grad rocket at the southern edge of Ashkelon in the morning, at least the third, not including mortar shells, that had hit southern Israel since Hamas announced its own ceasefire after the IDF ended Operation Cast Lead.
Unlike what occurred after previous ceasefire violations, Israel did not retaliate.
Since the ceasefire that marked the end of Operation Cast Lead, Hamas and other terrorists have attacked Israel with more than 1,000 missiles, rockets and mortar shells, not including the many hundreds that have been fired since the beginning of Operation Pillar of Defense last week.