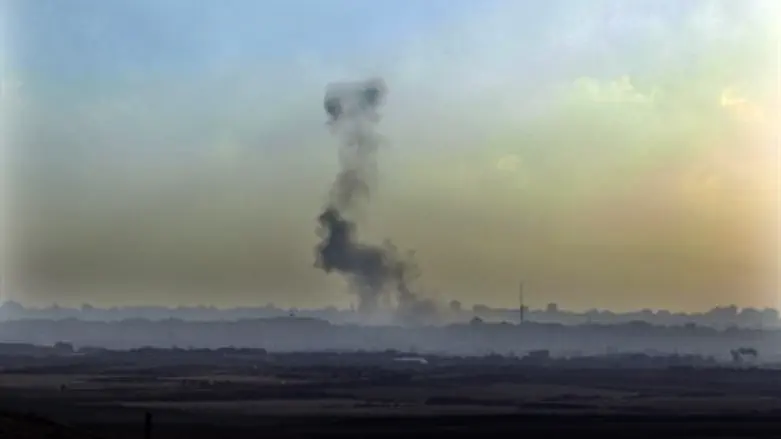 IAF air strike in Gaza
Flash 90
IAF aircraft struck a Gaza-based terror squad that was preparing to launch rockets at southern Israel on Tuesday night, the IDF Spokesperson's Unit said.
According to the IDF statement, a direct hit at the terrorists was identified.
"The IDF will not tolerate any attempt to harm Israeli citizens and IDF soldiers and will continue to operate against anyone who operates terror against Israel," said the statement.
The air strike came after terrorists from Gaza fired seven rockets at Israel earlier in the evening. The rockets came in three rounds – with one round landing in one town in the Eshkol Regional Council, a second round landing in another town, and the third round landing in an open area.
No one was injured and no damaged was reported in any of the attacks.
Tuesday night's attacks were a continuation of what appeared to be an escalating deterioration of the security situation in southern Israel.
An IDF officer was wounded Tuesday morning when an explosive device blew up during an IDF exercise in the Gaza border area. The officer was flown by helicopter to Soroka Hospital in Be'er Sheva, where he was declared by doctors to be in serious condition, with his life in danger. The officer's condition was little-changed Tuesday night.
Prime Minister Binyamin Netanyahu promised a "hard response" after the attack which wounded the officer.
"We will fight and we will hit them [Hamas] very, very hard – very hard. That's the only way to fight them.  The way to fight terror is to fight terror, and that we shall do with great force," the Prime Minister told visiting Bulgarian President Rosen Plevneliev.