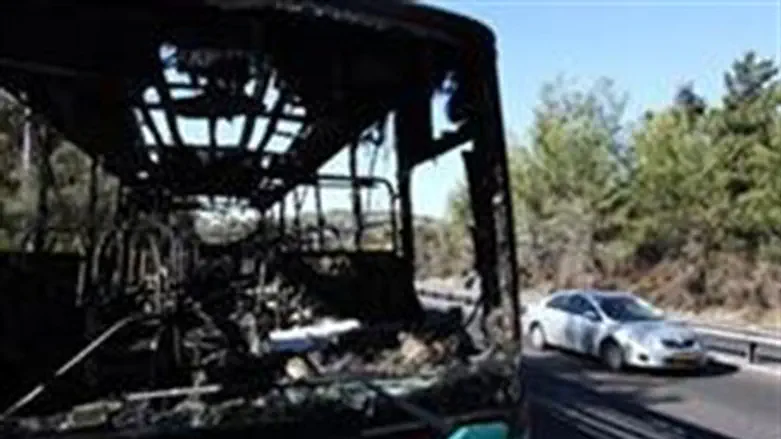 Burnt bus (illustrative)
Flash 90
Children from the Amit yeshiva in Tzfat escaped a near-tragedy on Saturday night. The children were returning from the nearby town of Shlomi when the bus they were riding in caught fire.

Rabbi Brechiya Challi was the first to notice that something was wrong. "I smelled something burning and asked the driver to stop," he told Arutz Sheva. "Something in the engine was on fire."

The passengers included students in grades 7-12 and two of their mothers, who were along as chaperones. The students began running off the bus, a process that was delayed by the fact that one door was stuck, and only opened after the evacuation had begun.

The opening of the second door allowed all the students to escape. The adults got off last, and took the group further from the vehicle.

Just seconds later, the entire bus caught fire, in what some witnesses described as an explosion.

"It was a miracle," said Rabbi Challi. "It was just fractions of seconds. If they had stopped the bus just a short time later, G-d forbid, I don't want to describe what would have happened, but we were given a miracle, thank G-d."

The near-escape was particularly meaningful for the young students due to the fact that one of their classmates died just weeks earlier in a horrific car crash. Eight members of the Attias family were killed when their car sped out of control near Tverya (Tiberias), crashed through a road barrier, smashed into the ground and caught fire. Only one child, 7-year-old Rachel, survived.

A psychologist was in school Sunday to give the students emotional support following the incident. Staff said emotional support would be extended also to those who did not come to school.