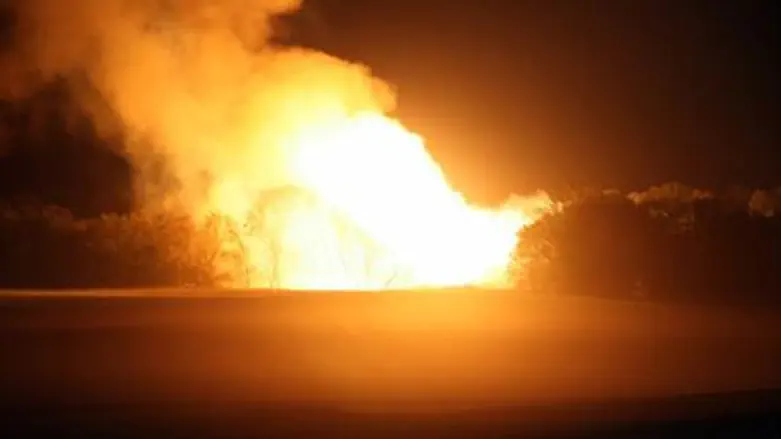 Gas pipeline explosion (illustrative)
Israel news photo: Flash 90
Egypt's pipeline in Sinai which carries gas to Israel and Jordan was attacked by unidentified terrorists for the 14th time since Cairo's Arab Spring revolution.
Security in the Sinai has destabilized significantly since Egyptian President Hosni Mubarak was deposed in February 2011. The first attack on the pipeline occurred in February 2011 during the uprisings against Mubarak.
Monday's explosion occurred at the entrance to El Arish in the northern Sinai Peninsula. The pipeline has been closed since a similar attack on the 5th of February.
Selling gas to Israel has been unpopular on the Egyptian street since the opening of the pipeline in 2008 and has become a political rallying point for anti-Israel radicals in Cairo.
Meanwhile, Israeli officials say the Sinai has become a launching pad for terrorists seeking to strike at Israel and its citizens.Several days ago a pair of Grad rockets were fired from the Sinai at Israel's southern city of Eilat. One struck a residential area, while the other landed without exploding on the outskirts of town.
The supply of gas to Israel has been interrupted numerous times in the last year, leading to intense pressure to find alternate fuel sources to produce electricity. 
Offshore gas discovered by Israel and being developed at present, will eventually make Israel independent of Egypt's supply, but meanwhile, electricity prices have risen by more than 20 percent in Israel since the attacks began.