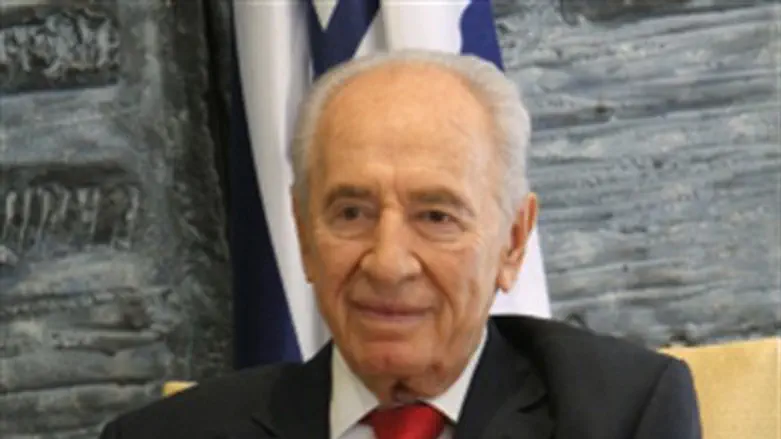 President Shimon Peres
Israel news photo: Flash 90
President Shimon Peres had a clear message for Iran on Wednesday, during an interview with Barbara Walters on ABC's "The View".
The interview took place after Peres landed in New York for a visit to the United States, where he will hold a series of policy meetings, including a meeting with U.S. President Barack Obama.
According to a report on Israel's Channel 2 News, during the interview Peres addressed the Iranian nuclear threat, which he is also expected to discuss with Obama, and said, "The government in Tehran finances and supports international terrorism. The combination of these facts with the possibility that it will have an atomic bomb in its hands is a danger to the entire world."
In an attempt to cool the mounting tension over the reports on the possibility of an Israeli pre-emptive strike on Iran's nuclear facilities, Peres sent a reassuring message to the audience and said, "There are many rumors and speculations around the issue and most are not true."
Last week, a report in Haaretz said that Peres intends to tell President Obama that he opposes an Israeli raid on Iran. 
However, Peres later spoke before the annual Jerusalem meeting of the Conference of Presidents of Major American Jewish Organizations and said, "The state of Israel is a sovereign one and it has the right and the ability to defend itself from every threat," he said. "When we say all options are on the table, we mean it!"
During the interview with Walters, Peres once again warned that "all options are on the table. Of course there is a preference to resolving the conflict using diplomatic means and I hope that the sanctions will do the job, but the government in Tehran is well aware that if the sanctions do not bear fruit, there are other ways."
When asked about the nature of the relationship between Israel and the United States, Peres replied that "there is full coordination between us and I am grateful to President Obama for his work."