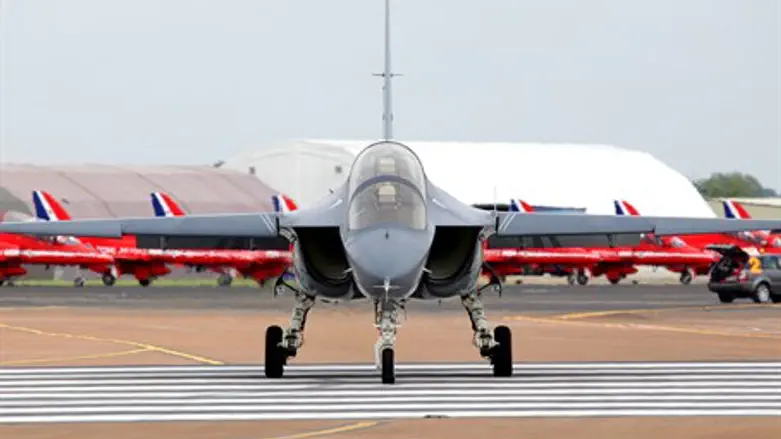 The Italian Jet
Yissachar Ruas
The Israeli Ministry of Defense has decided to procure the Italian M-346 military jet to replace the antiquated Skyhawk as its training aircraft, according to IsraelDefense.
The IAF selected the M-346 over the South Korean S-50 Golden Eagle supersonic advanced trainer. South Korea had protested in recent weeks that Israel was biased in favor of the Italian plane because of political reasons, not professional considerations.
IsraelDefense adds that South Korean representatives complained about the lack of transparency on the deal.
At the time, the Israeli Defense Ministry responded to Seoul by saying, "The Ministry is conducting contacts with the South Korean and Italian industries and governments, with full transparency and while providing both industries with an equal opportunity. Contacts were conducted in the recent months within the framework of the process, which allowed the industries to offer the best exchange deal to the defense establishment, as well as present the aircraft and its capabilities to the IAF in the most detailed manner."
Meetings took place during the international air exhibition in Singapore between top Israeli and South Korean officials, including Minister of Defense Ehud Barak.
Italy told Israel's defense establishment that if the IAF selected the Italian plane, its air force will consider buying two to four early-warning aircraft produced by Israel Aerospace Industries. "The Italian proposal was surprising due to its scope, which may reach as much as $1 billion," reported IsraelDefense.
The South Korean government also offered to procure Israeli military systems in large quantities, and representatives of the South Korean defense ministry visited Israel and discussed cooperation and possibilities.
In the end, the Italian plane won out.
Photos by Yissachar Ruas: