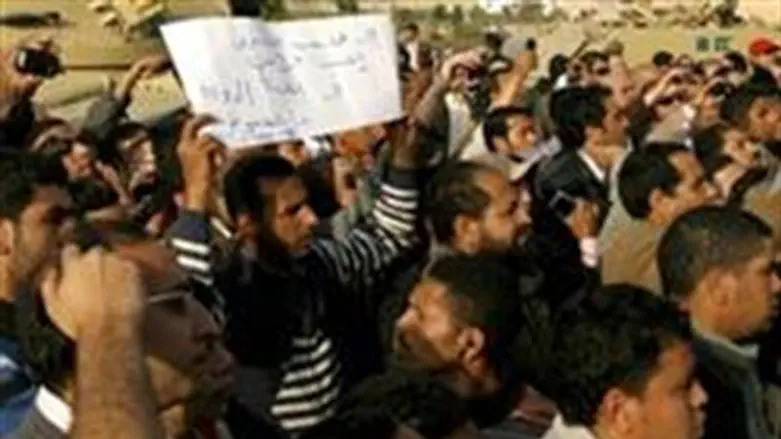 Egyptian protesters during 2011 revolution
Israel news photo: Flash 90
While Israel's tourism stats are holding steady, despite the upheaval in the region, Egyptian tourism revenues dropped nearly 30 percent last year following its revolutionary ouster of former President Hosni Mubarak.
According to Egyptian Tourism Minister Mounir Abdel-Nour, the number of tourists who entered the country in 2011 was 9.8 million -- 33 percent less than the 14.7 million a year earlier. Revenues were only $8.8 billion, as compared with the $12.5 billion in 2010.
This week, the government submitted a formal request to a delegation from the International Monetary Fund for a $3.2 billion loan.
Although a statement by IMF Middle East and Central Asia Director Masoud Ahmed seemed to indicate it was likely Egypt would be granted the funding, analysts were not convinced, noting that any package would need to be part of a broader support plan with other donors as well.
"The program developed by the Egyptian authorities and its key policies are currently being discussed with emerging political parties to ensure broad political support, Ahmed said in his statement. "This should help reduce uncertainty and boost confidence in the program's successful implementation."
The IMF delegation met with members of the Muslim Brotherhood's Freedom and Justice party, which swept into power during recent parliamentary elections, taking nearly 50 percent of the total ballots.
That election may sound the death knell for tourism in Egypt, especially in spots where the white beach sands along the Red Sea were once dotted with men and women scantily clad in bathing suits, sipping drinks along the shoreline.