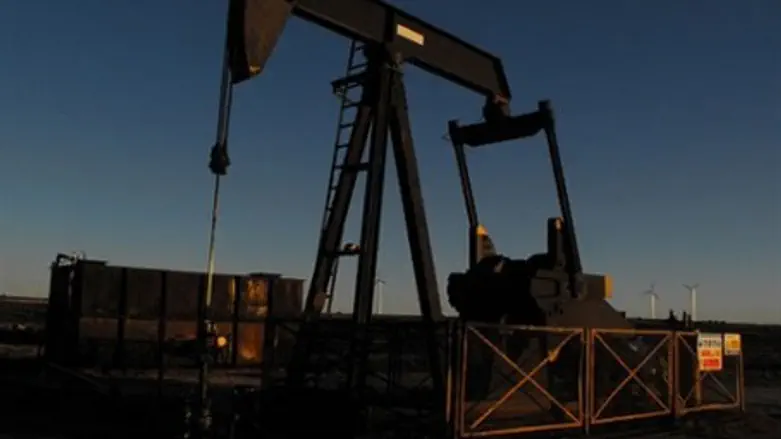 Syrian oil well
Israel news photo: SANA
An oil pipe leading from eastern Syria to the refineries in the central city of Homs was sabotaged on Thursday, with the state-run SANA news agency laying the blame for the blast on "terrorists."
"An armed terrorist group on Thursday committed an act of sabotage,"
SANA
reported. The Damascus government has consistently used the "T" word as code for opposition forces comprised of Syrian Army defectors and civilian protesters who oppose the regime of President Bashar al-Assad.
The government official who spoke with SANA on condition of anonymity -- because he was not authorized to speak with media -- said the blast caused a fire that had already been burning for four hours.
A British-based human rights organization confirmed that the main Homs oil pipeline had been blown up.
Rami Abdulrahman, a spokesman for the Syrian Observatory for Human Rights, told
Reuters
that flames could be seen rising from the site of the explosion. "This was the main pipelne that feeds the Homs refinery," Abdulrahman said.
However, neither report could be independently confirmed; journalists face major difficulty with moving around the country due to extremely dangerous conditions and government attempts to stifle media.

Homs is one of the cities which the Assad loyalist troops has repeatedly attacked in an attempt to subjugate the population and force anti-government protesters to their knees. Weekly demonstrations calling for Assad's ouster have continued in the city nevertheless.
The European Union, meanwhile, has formally banned oil imports from Syria, costing the Assad regime millions of dollars each day.
More than 4,000 people have died in the uprising that began in mid-March, a figure estimated by the United Nations and considered conservative by human rights organizations and activists, who place the death toll much higher, at close to 5,000.
Thousands more have been injured, including many -- including children -- who were tortured after being arbitrarily arrested and detained. Some "disappeared." In the 24 hour period between Monday and Tuesday -- one of the country's deadliest periods since the protests began -- more than 50 people died in clashes between Assad loyalists and anti-government protesters.
But in a rare exclusive interview broadcast Wednesday on
ABC News
with veteran journalist Barbara Walters, Assad utterly denied that his troops had conducted a campaign of terror against his people.
Speaking in English, Assad said, "We're talking about false allegations and accusations." He added, "There was no command to kill or to be brutal."