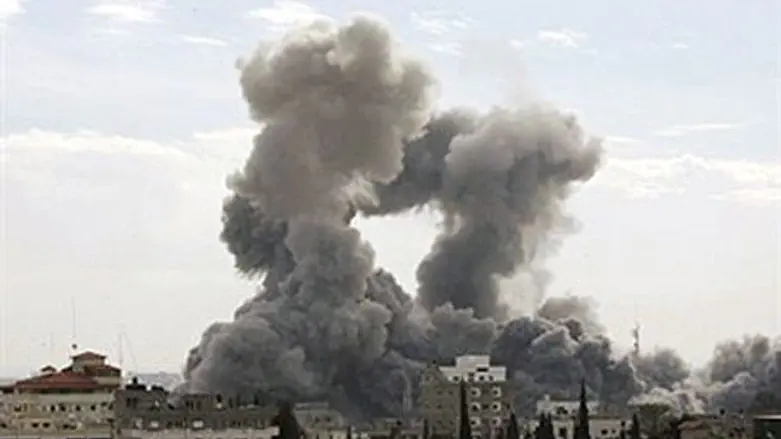 IAF Counterstrike (Gaza)
Arutz Sheva: Flash 90
IAF aircraft attacked two terrorist cells in northern Gaza overnight Tuesday, foiling an attempt to launch rockets at IDF forces.
A statement from the IDF Spokesperson said that in both cases, the terrorists had been engaged in final preparations for firing rockets at IDF forces.
The statement said that direct targets were hit and all Israeli aircraft returned safely to their bases.
PA-based sources later reported that one terrorist was killed in the attack and that several other people were wounded.
The rocket attacks from Gaza have been less frequent in recent weeks, but the Gaza-based terrorists occasionally remind Israel of their presence and fire a rocket at Israel's southern communities.
Last week, Hamas fired a Kassam rocket on the Eshkol region, south of Ashkelon. The IDF responded in the middle of the night, hitting two terrorist sites.
No injuries were reported on either side, but the IDF caused damage in what the military said were "direct hits" from aircraft.
The status quo "tit-for-tat" policy remains intact, but IDF Chief of Staff Benny Gantz recently warned, "The recent rounds of escalation and the harm to both the lives and daily routine of residents of the south is leading to the IDF being asked to undertake a significant offensive in Gaza."
On Monday, Major General Yoav Galant (Ret.) said that Israel's refusal to take decisive action in Gaza will only serve to force Israel to make a massive incursion into the Hamas-run enclave.
Galant told attendees of a speech at Tel Aviv University that Israel's concerted efforts to dismantle terror infrastructures in Judea and Samaria caused terror levels to plummet, while Gaza terrorists were being allowed to thrive and build.
"In the end we'll have to go in with bulldozers," he said.