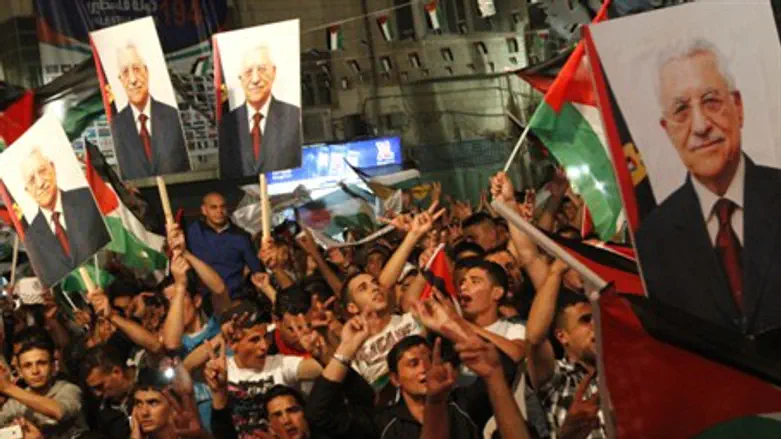 Ramallah celebrates Abbas's speech
Israel news photo: Miriam Alster/ Flash 90
Cheered by thousands, Palestinian Authority Chairman Mahmoud Abbas was given a hero's welcome Sunday when he returned from his trip to the United Nations.
"This is the popular Palestinian Spring," he declared, calling for the official start of a non-violent intifada against Israel. "Raise your heads with pride; you are Palestinians!" he told the crowd that greeted him in Ramallah. The speech followed his application to the U.N. Security Council on Friday for recognition of the PA as a sovereign state, and its "full membership" in the international body.
"The entire free world has accepted your history, your aspirations and your hopes with the utmost respect," he told the gathering. "We told the world that today there is an Arab Spring – but also a Palestinian Spring. A non-violent Fighting Spring that will reach its goal."
"Facing this determination – which I conveyed from you to the world – everyone stood up and appreciated your expectations and aspirations," he told the cheering crowd. "Our diplomatic move, which has already begun, still has a long way to go," he warned. "We must know that there will be those who will place obstacles in our path. They will block us and our existence here."
But, he added, "We have emphasized that we wish to obtain our rights via negotiations. The entire world was witness to the civility of this nation, which only demands its rights. We will remain on this land."
The U.N. speech, carefully geared to excite the PA street without inflaming it, was nevertheless seen by many in Israel as an exercise in official, institutional incitement "from the top." Foreign Minister Avigdor Lieberman said over the weekend that the PA leader's speech from the podium at the U.N. General Assembly was the "worst example of anti-israel incitement and vitriol" he had ever heard.
Throughout his address, Abbas referred to Israel as a "colonial occupying power" and accused the Jewish State of deliberately targeting civilians, arbitrarily destroying crops, and demolishing schools, mosques and hospitals. He demanded that the U.N. recognize Judea, Samaria and major portions of Israel's capital city, Jerusalem, as the PA's hoped-for state  and that Israel end all construction in Jewish communities in those areas as a precondition for any talks.
Abbas also accused Israel of destroying Islamic holy sites and claimed the IDF sent "attack dogs" against Palestinian Authority Arabs. In addition, he also called for the release of all jailed PA terrorists, including murderers with blood on their hands, whom he referred to as "political prisoners."
During his trip back to Ramallah, Abbas told the London-based Arab daily newspaper a-Sharq al-Awsat that Israel's Prime Minister Binyamin Netanyahu was the "last" leader with whom he could reach a final status agreement, "since he holds tough and almost ideological positions."