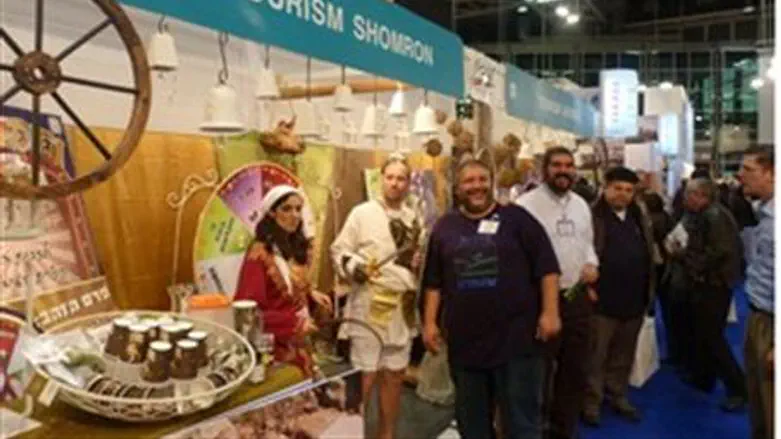 Samaria (Shomron) booth at Tourism Fair
Israel news photo: Judea and Samaria Council
Israel has announced it will invest millions of shekels in the coming year in the worldwide tourism fair industry.
The Tourism Ministry said in a statement Monday that it will invest NIS 12 million to expose the Jewish State in leading fairs around the world.
Since the beginning of 2011, 2.2 million visitors have entered the country, according to the latest statistics, including 1.9 million for an extended trip. The figures are a three percent increase in comparison to the same period last year.
"The stability of tourism during this period in time is not to be seen lightly and has been achieved as a result of intensive and targeted activities of the Ministry of Tourism worldwide, in both source countries and developing markets," said Tourism Minister Stas Misezhnikov.
"Within the coming months, the Israeli tourism industry, led by the Ministry of Tourism, will present itself at leading tourism exhibitions worldwide in order to send out the message that despite the events in the region, Israel is a safe tourism destination, attractive, eclectic and unique, and the experience is unlike any in the world."
The 2011-2012 international tourism exhibition season has recently begun, lasting until May. Israel will be represented at various tourism fairs in countries such as France, Poland, Brazil, China, Singapore, Germany and England.
The first such fair is the Top Resa, the main professional tourism fair in France, which opens in Paris on the same day as the United Nations General Assembly in New York, September 20, and will last four days. More than 27,000 tourism professionals are expected to attend, along with 1,200 exhibitors presenting 160 destinations worldwide.
Representing the Jewish State will be Israeli chef Michael Katz from Jerusalem, the main chef of the "Adom" restaurant group. Katz will be introducing the culinary delights of Israel as well as its fresh and dried fruits, silwan (date honey), tehina, olive oil and more.
In the first seven months of this year, more than 165,000 tourists came to Israel from France.