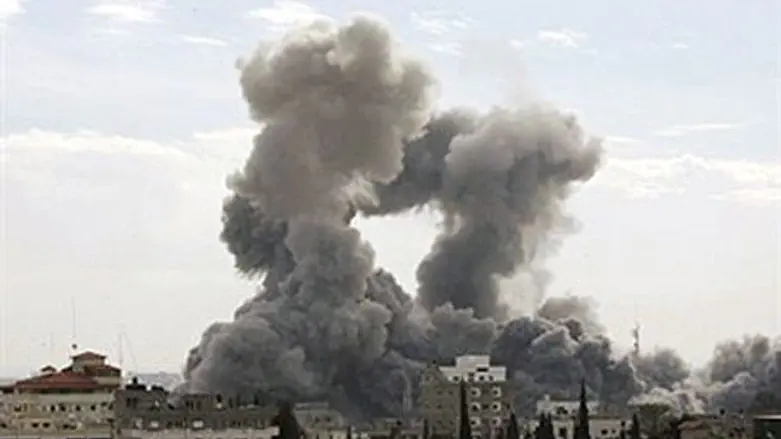 IAF Counterstrike (Gaza)
Israel news photo: Flash 90
IAF warplanes targeted two weapons manufacturing sites in central Gaza, and a 'terror activity' sites in both northern and southern Gaza. Hits were confirmed.
This attacks were launched in response to the terror attacks executed against Israel in the last 24 hours, which have claimed 9 lives -- 8 in Thursday's
successive attacks
and 1 in Friday's
Ashdod rocket attacks
.
The IDF reiterated it will not tolerate any attempt to harm Israeli civilians and soldiers, and will respond with determination to any attempt to use terror against the State of Israel. 
The IDF says it holds the Hamas terrorist organization solely responsible for any terrorist activity emanating from the Gaza.
It is unclear how IDF retaliatory strikes since Thursday's horrific attack mark a change in doctrine from the 'airstrikes for attacks' paradigm that has allowed terror groups to maintain - and improve - their infrastructure in recent years.
Temporary upticks in Israeli airstrikes following major attacks without substantive operations to alter the strategic situation on the ground has been a hallmark of the Oslo-era.
Without an order for a major operation in Gaza from Israel's political leadership, however, the IDFs is locked into a reactive rather than proactive posture. 
It is up to the Netanyahu government to prove it possesses sufficient political will to order the dramatic steps necessary to alter Israel's strategic outlook and secure its citizenry.