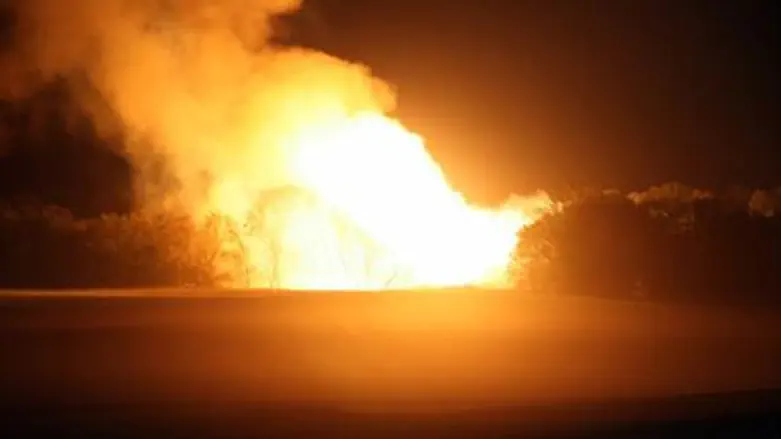 Gas pipeline explosion (illustrative)
Israel news photo: Flash 90
The pipeline carrying gas from Egypt to Israel and Jordan exploded early Monday morning, officials have said.
According to a report in the BBC, the blast happened at a pumping station at Nagah, in the Bir al-Abd region of the northern Sinai Peninsula (about 80 kilometers from the north Sinai town of El-Arish).
Security officials told the AFP news agency that the explosion was caused by saboteurs, noting that a suspicious car had parked near the pipeline shortly before the explosion.
The officials added that the explosion had sent flames into the sky and cut gas supplies to Israel and Jordan. They said emergency services were deployed to the area to try to bring the fire under control.
This is the third time Egyptian gas pipelines have been attacked since former President Hosni Mubarak was removed from power in an uprising.
The first attack in February was later confirmed to have been a terror attack. A second attack occurred on April 27, also by unknown saboteurs.
There was also a failed attack which occurred in March. Six terrorists, reportedly Bedouin, tried to blow up the pipeline but the timer failed to detonate the explosives, preventing a huge economic and political crisis.