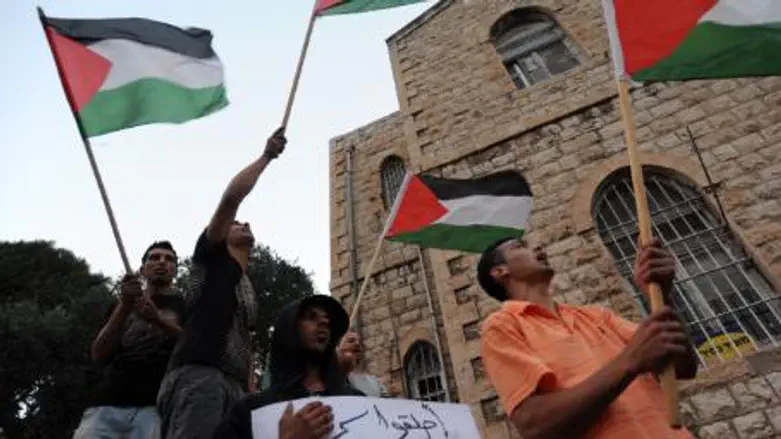 Pro-Hamas activists on Free Gaza boat
Israel news photo: Flash 90
The Navy is monitoring movements of activists on a Syrian ship scheduled to carry activists and aid to Gaza via an overland route from an Egyptian port, the Irish Times reported Wednesday.
The IDF has not commented, but previous reports on the land-sea caravan indicated that Israel has been behind technical problems on the "Asia One" ship, docked at the Latikia port and set to sail for El-Arish, Egypt. The ship's departure also has been delayed by Egyptian authorities, who have not given the activists a landing permit to dock at El-Arish. 
Several of the activists have been given permission to enter Egypt but not to cross into Gaza.
Free Gaza coordinator Feroze Mithiborwala told Al Ahram online that he hopes negotiations with Egypt will allow the ship to sail this week. He was quoted as saying that one option is for the activists fly to Egypt and leave the ship, which would sail for Gaza. Such a scenario would almost certainly prompt intervention by the Israeli navy.
Unlike the IHH-sponsored flotilla last May, the "Asia One" boat's stated itinerary is to dock at El-Arish without trying to land in Gaza. The Times quoted one unnamed activist as saying that if the Israeli navy approaches the boat, the activists will "face it with non-violence. We'll face it with a prayer in our hearts."
Israel has placed a maritime blockade on Gaza to prevent entry of terrorists and weapons. Activists have said they are not carrying weapons and want to bring with them medicine, foodstuffs, toys, four buses and 10 power generators for Gaza hospitals.
Despite media reports of a "blockade" on Gaza, the government has lifted all restrictions on almost all incoming materials except for those that can be directly used for terrorist activities.
The activists have embarked on the first Asian sea and land caravan, having left India earlier this month and passed through Pakistan, Iran and Turkey before docking at Syria. The ship's passengers are from 15 countries and include pro-Hamas activists who are members of the Christian, Buddhist and Islamic faiths. They have also met with Damascus-based Khaled Mashaal, the general director of the Hamas terrorist organization.