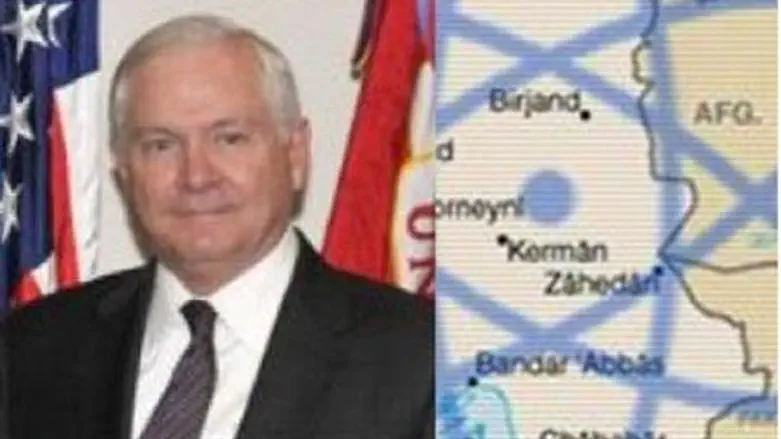 Gates: 'No' to military threat
Israel news photo montage
U.S. Defense Secetary Robert Gates Monday outrightly rejected visiting Prime Minister Binyamin Netanyahu's call for a "credible" military threat to Iran in order to prevent it from becoming a nuclear power.
Several hours earlier, Vice President Joe Biden welcomed Prime Minister Netanyahu with the standard promise of "unswerving support" for Israel's security. Referring to the impasse between Israel and the Palestinian Authority, Vice President reportedly told him, "Agreement or not, our commitment to your security is unconditional and complete."
The Prime Minister told the vice president, "Sanctions are important. They are increasing pressure on Iran. But so far there has not been any change in the behavior of Iran and upgrading of international pressure is necessary," according to Israeli government spokesman Mark Regev.
Gates, who is visiting Australia, quickly responded, arguing that "the sanctions are biting more deeply than they anticipated, and we are working very hard at this. So I would disagree that only a credible military threat can get Iran to take the actions it needs to end its nuclear weapons program." Last year, Gates encouraged Arab nations to stockpile arms to discourage Iran's nuclear sanctions.
However, support for Israeli government policies is more likely to come from the Congressional branch of the United States rather than from the executive branch particularly after last week's elections that returned the GOP to a majority in the House of Representatives and narrowed the Democratic majority in the Senate.
Republican Senator Lindsey Graham told a security conference Saturday that if U.S. President Barack Obama "decides to be tough with Iran beyond sanctions, I think he is going to feel a lot of Republican support for the idea that we cannot let Iran develop a nuclear weapon.
"The last thing America wants is another military conflict, but the last thing the world needs is a nuclear-armed Iran... containment is off the table."
Iran has insisted that sanctions are not hurting the country, but it now has come up with a new idea for sitting down for discussions with Western powers. The Islamic Republic proposed that talks be held in Turkey instead of Austria, a site suggested by European Union foreign policy chief Catherine Ashton.
Turkey has strengthened ties with the Iranian-Syrian-Hizbullah axis that past year as it furthers itself from its once friendly relationship with Israel.