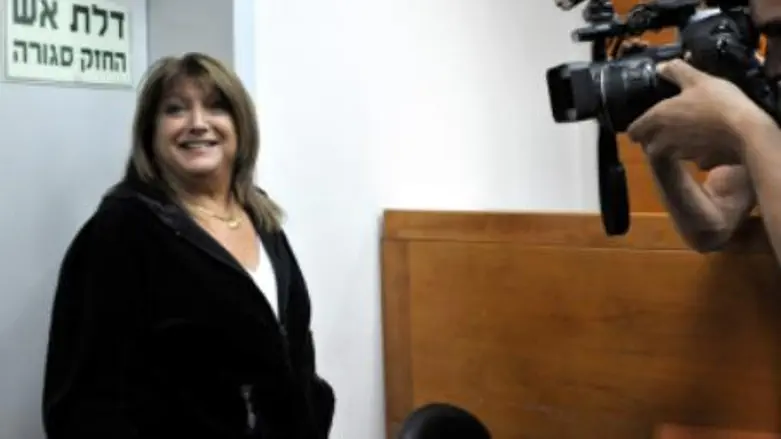 Shula Zaken
Israel news photo: Flash 90
Police suspect Shula Zaken, the former bureau chief of Ehud Olmert, of funneling sums totaling over one million shekels to Olmert as part of corrupt dealings. Police revealed the suspicions in a court proceeding Sunday, in which Zaken was released from jail after a week in lockup.
Zaken was Olmert's secretary and bureau chief for most of his public career, including his term as prime minister.
She was remanded to ten days' house arrest and she has had to deposit her passport with police. She may not leave the country for six months.
Police said that besides transferring money to Olmert, Zaken is suspected receiving hundreds of thousands of shekels herself, in return for the assistance she lent to the developers in the mammoth Holyland housing project in Jerusalem. Besides being the go-between in bribes to Olmert, who was Mayor of Jerusalem at the time, she is also suspected of involvement in bribes allegedly paid to engineer Uri Sheetrit. In return for the money, Olmert is suspected of giving the Holyland developers substantial behind-the-scenes assistance in receiving approvals for the grandiose project.
Additional suspicions against Zaken are that she received jewelry worth about NIS 10,000 and a painting worth about NIS 4,000 – 5,000 as bribes.