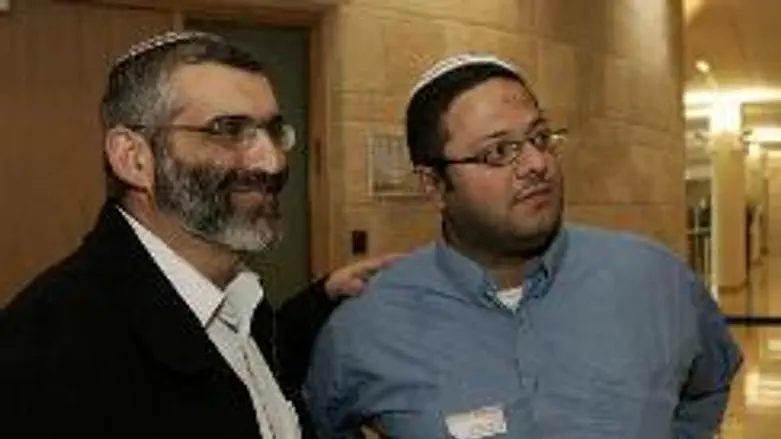 MK Ben-Ari (left)
Israel news photo: Flash 90
MK Michael Ben-Ari (Ichud Leumi-National Union) reported Monday that he had been turned down for a visa to visit the United States. Ben-Ari had been planning a trip in the upcoming days, in order to visit several American Jewish communities.
Sources close to the MK said that the refusal appears to have stemmed from concerns over demonstrations in which Ben-Ari took part prior to the 2005 Disengagement from Gaza. While applying for a visa Ben-Ari was asked if he had a criminal background, and revealed that he had been arrested during an anti-Disengagement protest, they explained.
The planned visit to the U.S. was to be Ben-Ari's first. The freshman MK expressed hope that the American consulate would reverse its decision.
Earlier this year, the U.S. denied a visa to security expert Dr. Uzi Arad. Arad worked for the Mossad intelligence agency for more than 20 years, and currently serves as Prime Minister Binyamin Netanyahu's National Security Advisor. He was apparently suspected of being an intelligence risk.
In 2008, the U.S. refused between 10 and 15 percent of visa requests from Israel. Then- President George Bush told Israeli officials that he would work to cancel the visa requirement for Israeli travelers.
Citizens of several countries, including Latvia, Estonia and South Korea, are currently able to travel to the United States without applying for a visa beforehand. Israel's application for visa-free status has been slowed due to Israel's lack of biometric passports. American officials have insisted on such passports, arguing that Israeli passports are easy to forge in their current form.