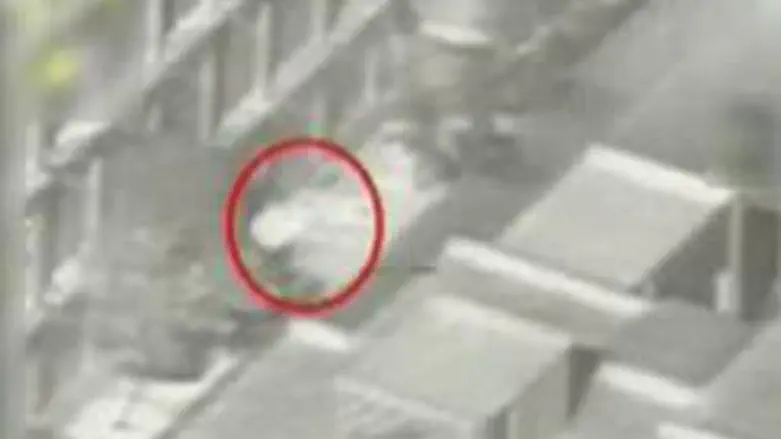 Mortar fired from yard of a school
Israel News Photo: IDF
IDF soldiers uncovered missiles and anti-tank rocket launchers in a Gaza schoolyard in late Thursday. The anti-tank missile launcher and a stack of missiles were found at a school in Sajaiya, in northern Gaza, during routine counter-terrorism operations.
Soldiers display some of the anti-tank missiles and launcher.
(Israel News Photo: IDF)
Soldiers near the school's basketball court examine the rocket launcher during the operation.
(Israel News Photo: IDF)
Closeup of anti-tank rockets
(Israel News Photo: IDF)
The Israel Air Force reports hitting two members of a terror cell carrying anti-tank weapons in southern Gaza, after an IDF soldier was moderately wounded in a firefight with terrorists in the area early Friday morning. The soldier was struck down when terrorists fired anti-tank shells at the troops. He was airlifted to Soroka Medical Center in Be'er Sheva.
Soldiers from the elite Givati Brigade, tank corps and engineering units have been carrying out counterterrorism operations throughout Gaza since Thursday, when Islamic Jihad operatives attacked the Erez Crossing.
The crater at Erez crossing following Thursday's 4-ton truck bomb attack.
(Israel News Photo: IDF)
Suicide bombers detonated a truck bomb on the Gaza side of the terminal. No IDF soldiers were wounded in the blast.  A short time later, IAF pilots tracked down a vehicle carrying Islamic Jihad operatives fleeing the scene and confirmed killing at least two of the terrorists.
Terrorists also attacked soldiers at the Sufa and Karni crossings on Thursday, two more conduits through which humanitarian supplies, including food, medicine, medical equipment and other essential supplies are delivered to Gaza each week. One terrorist was killed and several others were wounded.
In another attack, terrorists fired mortar shells Thursday at the Nahal Oz fuel depot, the terminal through which cooking gas and other fuel supplies are pumped into Gaza. The Nahal Oz fuel depot has been attacked by terrorists numerous times this year. In one instance, Hamas terrorists robbed 60,000 liters of gasoline from their own Palestinian Authority Gaza Power Authority, earmarked for local use.
Earlier this week Egyptian mediators claimed that Israel had agreed to a halt in counterterrorist operations, to coincide with a cessation in Arab terrorist attacks on Israel. Thursday's attempted suicide attack involved a truck loaded with four tons of explosives, which would have caused heavy casualties if alert soldiers had not fired on the vehicle before it reached the Israeli side of the crossing.
The bomb belt worn by the would-be suicide bomber who arrived at the Shechem-area Hawara Checkpoint. He was shot as he attempted to detonate the bomb by alert IDF soldiers.
(Israel News Photo: IDF)
Ismail Haniyeh, the head of the Hamas terrorist organization that currently controls Gaza, said Thursday night that the group would not agree to a temporary ceasefire, or "tahadiyeh", unless Israel agrees to open all the crossings. He also threatened to withdraw from negotiations if the group continued to be "humiliated" by Israel.
Ezra HaLevi contributed to this report