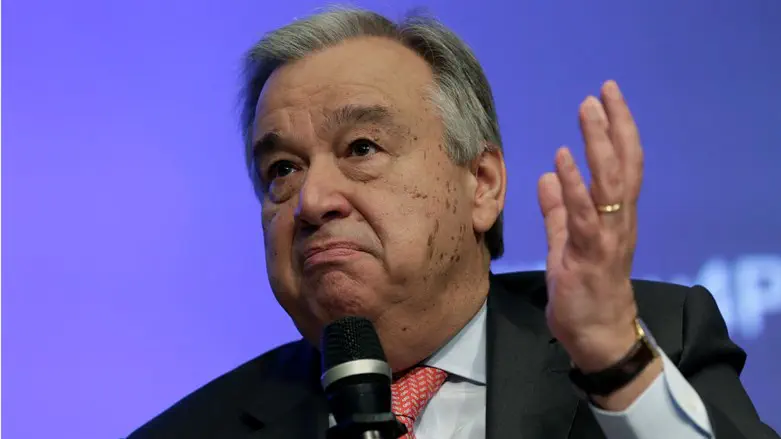 Antonio Guterres
Reuters
UN Secretary-General Antonio Guterres on Monday opined that a UN protectorate in Gaza would not solve the conflict there, calling instead for a "transition period" involving Arab nations and the United States and leading to a two-state solution, AFP reported.
Guterres said it was "important to be able to transform this tragedy into an opportunity" -- which, for him, meant moving "in a determined and irreversible way to a two-state solution."
This means, after the current war between Israel and Hamas fighters in Gaza ends, "a strengthened Palestinian Authority, assuming responsibilities in Gaza," said the UN chief.
He added that the Palestinian Authority cannot go into Gaza backed by Israeli tanks, he added -- meaning the "international community needs to look into a transition period."
"I do not think that a UN protectorate in Gaza is a solution," however, Guterres said, according to AFP.
Instead, he called for a "multi-stakeholder approach" that would see the US act as the "main guarantor" of Israel's security, while Arab nations are "essential" to support Palestinian Arabs.
"Everybody needs to come together to create the conditions for the transition, allowing for a strengthened Palestinian Authority to assume responsibilities in Gaza," and from there to a two-state solution, he said.
Prime Minister Benjamin Netanyahu has clarified that Israel must maintain "overall military responsibility" in Gaza after the conclusion of the war.
"Once we defeat Hamas, we have to make sure that there's no new Hamas, no resurgence of terrorism, and right now the only force that is able to secure that is Israel," Netanyahu told NPR last week.
In his remarks on Monday, Guterres also again denounced the killing of civilians in Gaza.
"Without entering into discussing the accuracy of the numbers that were published by de facto authorities in Gaza, what is clear is that we have had in a few weeks thousands of children killed," Guterres told reporters.
"We are witnessing a killing of civilians that is unparalleled and unprecedented in any conflict since I am Secretary-General," he claimed.
Guterres recently caused an uproar when he said that Hamas' attack on Israel "did not happen in a vacuum" and appeared to blame Israel for the attack.
After his remarks were widely condemned, Guterres claimed his comments were misinterpreted and that he had indeed condemned Hamas.