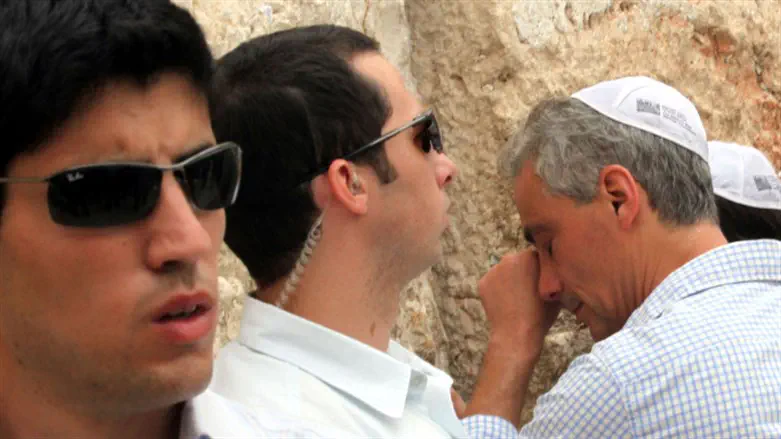 Rahm Emanuel
Flash 90
The fence outside the Michigan vacation home of US Ambassador to Japan and Obama-era White House Chief of Staff Rahm Emanuel was spray-painted with the word "Nazis."
The Jewish diplomat was not at home at the time.
Emanuel told the Chicago Sun-Times: "Our family is very proud of how our friends, neighbors, and the community have rallied to our support and in a singular voice in condemning hatred and bigotry,"
Emanuel, who was in Chicago on Sunday, also thanked local law enforcement for "their diligence, swiftness, and seriousness in which they have addressed this crime."
The vandalism at Emanuel's property came to light when the head of a homeowners organization in the small lakefront community of Gordon Beach in southwest Michigan sent a message to residents Friday informing them "of an upsetting incident."
"A hate crime occurred against one of our neighbors, where an anti-Semitic word was spray painted on a property," board president Tom McNulty told the Gordon Beach Homeowners Association, representing a community in Union Pier, Michigan, about 70 miles from Chicago.
The letter noted that local police "came out and confirmed there was no other damage to the property and no sign of breaking or entering. The homeowner arranged to have the offensive language removed."
The letter added that "we in Gordon Beach condemn this hate crime, as well as the national increase in intolerance, bigotry, and criminal activity based on hate. Gordon Beach does not tolerate prejudice, bigotry, racism, hatred, or violence, and we encourage anyone who has experienced an act of hate to report it to the Berrien County Police."
"Gordon Beach has a history of being an accepting community for all peoples. We are welcoming to all neighbors and will continue to be a safe space where a love of nature, the beach, and kindness are core values," McNulty added.