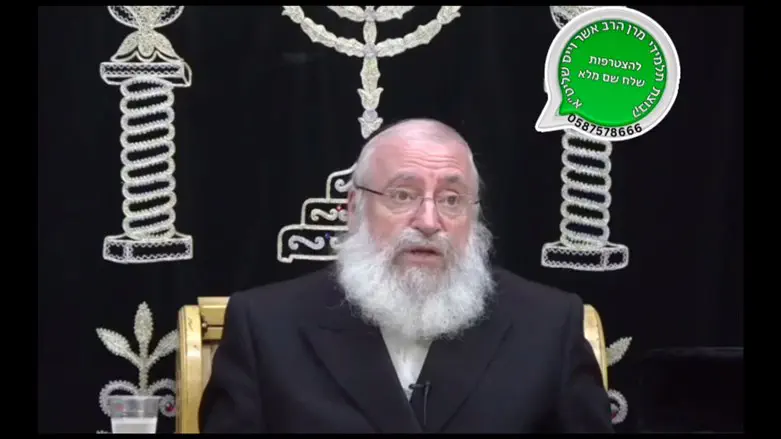 Rabbi Asher Weiss
Rabbi Asher Weiss' students
Rabbi Asher Weiss, a haredi rabbinical leader, tells why a baby's father who chose to stay in Gaza instead of going to the Brit made him cry.
"This week I sat with an important rabbi, whom many turn to from the army, and he showed me a correspondence with a young soldier, who asked: On Shabbat morning, his son would be circumcised [brit] by Jewish religion, and unfortunately he will not be able to be released and leave Gaza before the beginning of Shabbat. Is he allowed to travel on Shabbat to participate in the brit? The rabbi answered him: If you want to be there, you have no permission to violate Shabbat in order to participate, however important it is," says Rabbi Weiss.
"Even if you're afraid that the family won't forgive you for not being at the Brit, there's nothing wrong with that. But if you objectively feel that, as a soldier, you must refresh your mind in order to gather strength and continue fighting, you can go home. I'm not talking about the actual break, that's something else".
Rabbi Weiss was moved by the soldier's answer to the rabbi: "About fifteen minutes later, the soldier returns to him: 'I thought about, I contemplated, I don't think I have permission to go home, I will stay here.'
Rabbi Weiss continues: "I was moved and cried when I heard those words. Here, I had given him an easy way out. How easy it was for him to go home? This is his son's brit. He could say, "I don't think I will be able to fight if I don't get home," "I hope that when my son grows up, I will tell him why I did not participate in his brit, I hope that he will forgive me and that he will be strengthened in his fear of God. How easy it is to see in the praise and beauty of the Jews and the soldiers of Israel."
הרב אשר וייס מספר
באדיבות קבוצת תלמידי הרב אשר וייס