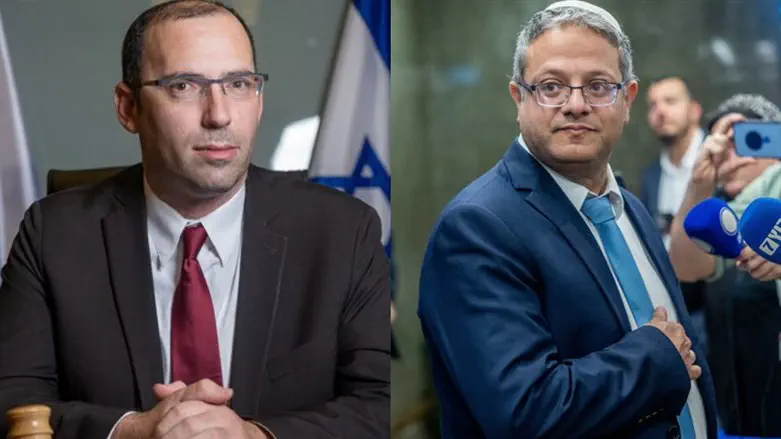 Simcha Rothman and Itamar Ben-Gvir
Yonatan Sindel/Flash90)
MK Simcha Rothman (Religious Zionist party) opposes Otzma Yehudit party chairman Itamar Ben-Gvir's intention to hold another public prayer at Tel Aviv's Dizengoff Square on Thursday after left-wing protestors violently disrupted a Yom Kippur prayer service at the site last night (Monday).
"Itamar, your intentions are good, but your actions are not ( a quote from the classic Jewish philosophical work "The Kuzari", ed.). There is no doubt that the acts of a small and violent minority that attacked worshipers on Yom Kippur are heartbreaking for all of us, but the answer to the provocation of the extreme and noisy progressive minority that does not want a Jewish and democratic state here is not to stage a counter-provocation that will only further inflame the situation, increase hatred, and coalesce support around these extremists," MK Rothman wrote on X (formerly Twitter).
"Darkness cannot not chased away with sticks, but by adding light. The consistent action of many, traditional, religious, and secular, who strengthened their Judaism as a response to the extreme progressive violence and silencing, is the correct response. Israel will be Jewish and democratic because that is what the absolute majority of the public wants and demands," he added.
Earlier, Ben-Gvir wrote: "I say to those anarchists who tried to expel the worshipers on Yom Kippur - I and the members of Otzma Yehudit are coming this Thursday to the same place, to pray the evening prayer, we will see if you try to expel us as well. I call on everyone, secular and religious, traditional, Ashkenazi and Sephardic, to come, prayer is for everyone, this is the Jewish state!"