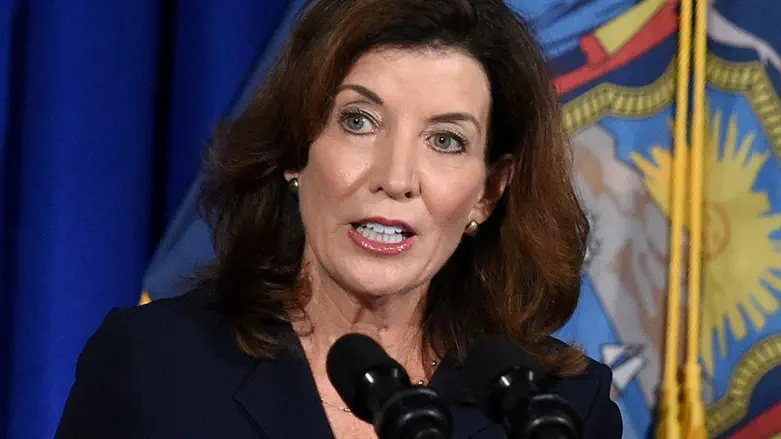 Kathy Hochul
REUTERS/Cindy Schultz
New York Governor Kathy Hochul on Monday deployed an additional 150 members of the New York National Guard to support the ongoing response to the asylum seeker and migrant crisis.
Thanks to this new deployment, the state will be able to assign 250 National Guard personnel the full-time responsibilities of case management professionals. This deployment, along with the $50 million state investment in case management thus far, will help asylum seekers and migrants file the appropriate paperwork to attain legal work status and exit taxpayer-funded shelters.
"It is critical that we help secure work authorization for asylum seekers and migrants in New York," Governor Hochul said. "We need to ensure individuals can navigate the paperwork necessary to get them established here so they can work and start making their American Dream a reality. Our National Guard members play a huge role in assisting in the process and we are grateful for their service."
Governor Hochul announced the deployment of an additional 150 New York National Guard personnel and assets to asylum seeker sites in New York City. This deployment builds on the 1,900 National Guard personnel who are currently providing logistical and operational support to asylum seekers statewide. New York National Guard personnel are currently staffing 51 hotels and two New York City Humanitarian Emergency Response and Relief Centers.
In addition to the New York National Guard, Governor Hochul has directed other state resources to help Venezuelans and other asylum seekers and migrants submit the appropriate paperwork to speedily receive legal work status. Working in partnership with federal and city officials, New York is in the midst of a "Month of Action" where more than 50 personnel from the federal Department of Homeland Security are in New York working to process work authorization paperwork. This builds on an additional $20 million allocated to local nonprofits, $20 million allocated to help New York City with a casework surge through NYC Health + Hospitals, as well as $10 million for migrant legal services allocated in the FY24 Budget.
Earlier this month, White House officials announced certain individuals from Venezuela, who have continuously resided in the United States on or before July 31, 2023, will be eligible to apply for Temporary Protected Status. This announcement followed more than a year of advocacy from Governor Hochul and a broad coalition of New Yorkers working to secure work authorization for asylum seekers and migrants, allowing them to exit the shelter system and begin living independently.
Division of Homeland Security and Emergency Services Commissioner Jackie Bray said, "New York State is working hard to assist NYC with the ongoing asylum seeker crisis. Governor Hochul has been focused on finding ways to help migrants and asylum seekers in NYC's shelters leave shelter by resourcing and advocating for pathways to work authorization and legal services. There is more to be done to ensure migrants can be self-sufficient here in New York and Governor Hochul will continue to take every action available to ensure that happens."
Major General Ray Shields said, "The members of the New York National Guard and our State Defense Forces look forward to playing a role in the efforts to help asylum seekers link with services they need to be successful, and find opportunities and jobs they need to be self-sufficient."