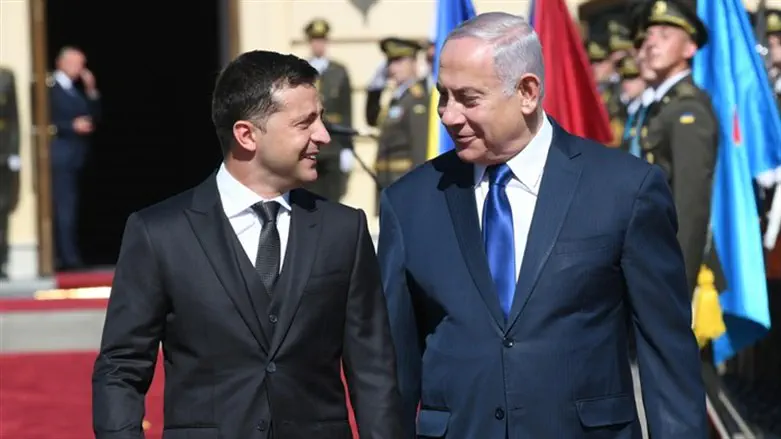 Netanyahu and Zelenskyy
Amos Ben Gershom/GPO
Prime Minister Benjamin Netanyahu spoke Thursday evening with Ukrainian President Volodymyr Zelenskyy.
The two leaders spoke about the continuation of Israeli aid to Ukraine, including to Ukrainian refugees staying in Israel, and also about the continuation of aid in the development and promotion of civil defense systems.
The Prime Minister also raised the need to ensure as much as possible the arrival of worshipers to Uman this year in order to ensure freedom of worship.
Netanyahu and Zelenskyy had not spoken in nearly a year, since the former won the last Israeli Knesset elections.
Over the past year, the Ukrainian government has criticized Israel's conduct and claimed that Israel is not doing enough to help Ukraine as it continues to combat Russia's invasion of its territory.
Last month, the Israeli Cabinet approved a 0.06% across-the-board cut in the 2023 fiscal year budgets for all ministries in order to extend benefits for the 14,000 Ukrainian refugees in Israel through the end of 2023.
The conversation between Netanyahu and Zelenskyy comes as the Ukrainian embassy in Israel harshly criticized Jerusalem's decision to sign an agreement with Russia to cooperate in the cinema industry.
"On the very same day when a Russian rocket struck a crowded market in the Donbas area of Ukraine, once again killing and injuring dozens of innocent civilians, the Israeli Government signed a cooperation agreement in the field of cinema with the Russian propaganda perpetrators," the embassy stated. "At a time when Russia escalates its attacks in Ukraine every day, taking the lives of innocent people, Israel is collaborating with this ruthless country, well known for its cinematic endeavors aimed at spreading war propaganda."