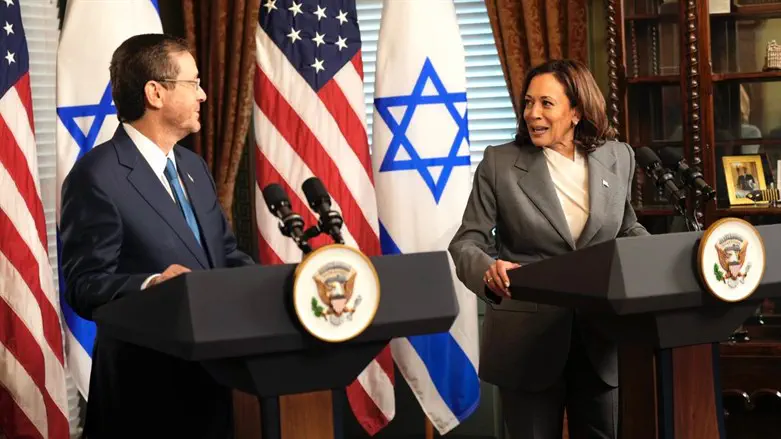 President Isaac Herzog and US Vice President Kamala Harris
Chris Kleponis
President Isaac Herzog on Wednesday held a diplomatic working meeting tonight with US Vice President Kamala Harris at the White House.
At the center of the meeting, the President and Vice President announced a joint climate initiative between the two countries to support and implement advanced climate technologies in the countries of the Middle East and Africa, with the aim of enabling food security in these countries.
The US and Israel will jointly invest $70 million, including $35 million by the US and $35 million from by Israel, over five years. This is a collaboration between government, academia and the private sector.
This project will strengthen the existing cooperation between the two countries and help build sustainable food systems and deal with the climate crisis. The United States and Israel are leaders in the development of smart, high-technology agriculture and this joint initiative will strengthen cooperation in these critical areas, and will also contribute to the foreign policy goals of both countries.
After the meeting, the two made joint statements.
In his remarks, Herzog recalled hosting Harris in Israel when she was a US senator and predicting that she would rise the ranks in US politics. "
I'm so happy I was right," he said.
Herzog thanked Harris and her husband, Second Gentleman Doug Emhoff, for their efforts to combat antisemitism. He added that "Israel's hand is extended and our hearts are open to any partner in peace near and far."
Tweeting about the meeting later on Wednesday, Herzog wrote, "Happy to meet US Vice President Kamala Harris, a true & longstanding friend of Israel. We discussed the challenges & cooperation between our countries on issues of security, economy, the fight against antisemitism, & more. I thanked her for her support and invited her to visit Israel."
Harris also tweeted about the meeting and wrote, "The United States has an unbreakable bond with the State of Israel. Our commitment to Israel's security is ironclad."