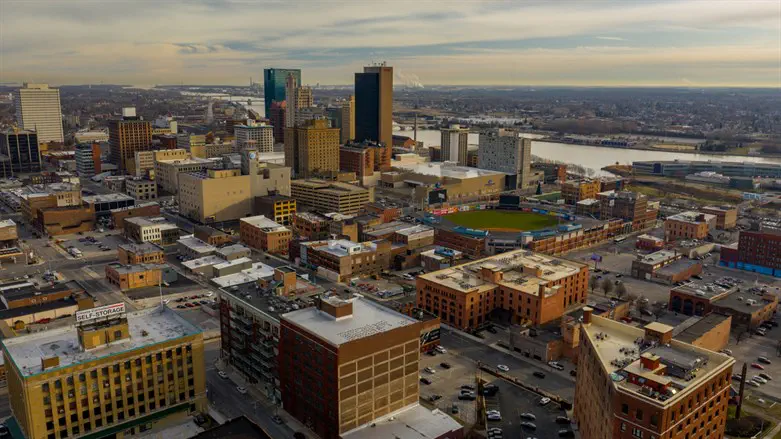 Downtown Toledo Ohio USA
iStock
A small group of neo-Nazis were feeling restless after targeting an LGBTQ event in downtown Toledo on Saturday night. So they head to a suburb that's home to several Jewish institutions.
The group, which the Cleveland Jewish News identified as an antisemitic organization named Blood Tribe, showed up at a Sylvania, Ohio, complex containing the Jewish Federation of Greater Toledo headquarters, two synagogues and a Jewish community center. Waving swastika flags and tiki torches, the group of around a dozen people stood on a sidewalk across the street for around 10 minutes before dispersing.
"The people are horrified and saddened that this occurred so close to home in our own community," Stephen Rothschild, CEO of the federation, told the Jewish Telegraphic Agency. "We've heard and read about it and some of us had experienced it, but when it happens across the street and is directed at your location, it's upsetting."
The incident mirrored similar recent accounts of neo-Nazi groups picketing or attacking synagogues and Jewish centers in Georgia and Florida. Other synagogues in Michigan and Pennsylvania have been targeted by threats from white supremacists.
However, the group at the center of the Toledo incident did not only target Jews. They had come directly from picketing Toledo Love Fest, an LGBTQ event. Federation officials said it appeared that their decision to head to the Jewish community immediately after was spontaneous.
No Jews were present at the center when the group arrived and the parking lot was empty, the federation said. Law enforcement had been monitoring the group's activities and was quickly on the scene; when group members tried to stand on the Jewish center's property, police directed them instead to a public sidewalk across the street. "I don't know who they thought would be there, or what. But there wasn't a car in the parking lot," Sylvania Township police chief Paul Long told the Toledo Blade.
An organizer of Toledo Love Fest told the Toledo Blade the protestors had been wearing "black masks with red shirts and black pants and sunglasses" when they showed up at the event and said they appeared to perform Nazi salutes. They picketed the event twice throughout the day.
Federation officials and local Jewish leaders alerted the community of around 2,500 Jews to the incident on Sunday. Rothschild said they had also received messages of support from local Muslim, LGBTQ and multifaith groups. Toledo Mayor Wade Kapszukiewicz also released a statement reading in part, "We are proud to stand beside our LGBTQ+ neighbors, our Jewish neighbors, and our Black, Muslim, Asian, and Disabled neighbors, and we refuse to be silent in the face of white supremacy."
Rothschild commented that the incident was "a pretty clear indication that there's an awful lot of hate out there for all sorts of minority groups and it's never just about any one of us," he said. "We all sort of remain at risk and need to stand together against hate."