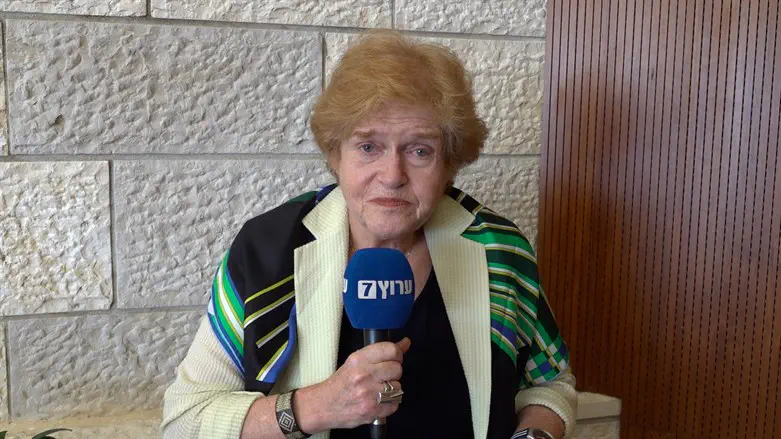 Ambassador Deborah Lipstadt the United States Special Envoy to Monitor and Combat
Israel National News
A congressional committee approved an increase in funding for the office of Deborah Lipstadt, the State Department's antisemitism monitor, from $1.5 million to $2.5 million.
The US House of Representatives Appropriations Committee approved the bill, which pays for State Department and foreign operations, late Wednesday. It now goes to the full House, and must be reconciled with parallel Senate legislation. Senators who focus on antisemitism hope to get similar language into the corresponding Senate bill.
This week, a bipartisan slate of lawmakers who belong the House's Task Force for Combating Antisemitism got the funding increase into the bill's committee report, which conveys the bill's legislative intent.
"The dangerous and distributing rise in antisemitism requires unprecedented investments in the Office of the Special Envoy so that the Special Envoy has the staffing and resources it requires to accomplish its work," said a release Wednesday from Rep. Grace Meng, the New York Democrat who is a co-chair of the task-force. Lipstadt's title is special envoy to monitor and combat antisemitism.
The other co-chairs are Rep. Kathy Manning, a North Carolina Democrat, and Chris Smith, a New Jersey Republican. The other lawmakers involved in getting the funding in the committee report are Democrats Susan Wild of Pennsylvania and Debbie Wasserman Schultz of Florida, and Republicans María Elvira Salazar of Florida, David Kustoff of Tennessee, and Don Bacon of Nebraska.
The amount is $500,000 more than the $2 million sought earlier this year by lawmakers who focus on antisemitism, who sent letters to the US State Department and to appropriators asking for the funds. It also comes after the Biden administration rolled out a comprehensive strategy for combating antisemitism in May.
In pressing for the increase, lawmakers have cited what reports say is a spike in antisemitic attacks and rhetoric both domestically and abroad.
"Antisemitism is a tangible and growing threat faced by both the American Jewish community and Jews around the world," said a letter sent to House appropriators in March and signed by 83 House members from both parties. A similar bipartisan letter signed by 33 senators was sent to Senate appropriators in April.
Lipstadt, who is a noted scholar of the Holocaust, needs the money for travel and for staff as demand for her presence overseas increases, the Jewish Telegraphic Agency has learned. She has traveled extensively in Arab Gulf states to promote education about Jews as nations in the region normalize ties with Israel. This week, she was part of a delegation that traveled to Bosnia and Herzegovina for a commemoration of the 28th anniversary of the Srebrenica massacre, in which 8,000 Muslims were killed during the Bosnian War.
Jewish groups that have pressed for the increase praised the approval. "We're hopeful that number will stay in the final appropriations bill," said Jonathan Greenblatt, CEO of the Anti-Defamation League (ADL). "The data is clear: We are facing a crisis of rising global antisemitism with incidents and attitudes at historic highs both in the US and in many countries abroad. This funding increase will ensure the office can grow to meet the challenges of the day and have the necessary resources to carry out its important work of fighting antisemitism around the world."
Elana Broitman, the Jewish Federations of North America's senior vice president for public affairs, said in a statement that the funding will help Lipstadt "ensure we are leveraging all of our diplomatic tools to help improve the safety and security of at-risk Jewish communities and hold world leaders to account."